Published on Wednesday, September 28, 2011 by JacobMartin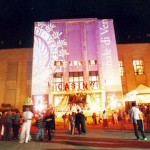 Italy is always a hot favorite among tourists! This exotic place is frequented, especially for its unique culture, tradition, and gastronomical treats. Are you done exploring all of these facets and still have the thirst to discover more? No worries! Attend dozens of film festivals in Italy starting from early September through late December. Let's take a look at some of the popular Italian film festivals,
Venice International Film Festival: Venice is a paradise for honeymooners! If you are taking a honeymoon trip with your spouse in September, don't forget to get couple passes for the La Biennale Di Venezia, which is held at the Venice Lido. It is the most popular and the oldest of all film festivals hosted in Italy. The highlight of this festival is the Golden Lion award for which top film makers contend each year.
Milano Film Fest: This event is held in succession to the Venice Film Festival and lasts up to ten days in Milan, the fashion city. It honors 53 best short films and 7 eminent feature films, which are shortlisted from more than 2,500 nominations each year.
Rome International Film Festival: For those avid cinema lovers, Rome's film festival is a real delight that is held around mid-October. Films are not the only theme of this event! You can expect more like exhibitions, meetings, music concerts, fashion shows, and theatre performances. International film premieres are yet another highlight of this great event.
Torino Film Festival: This Turin event is a real inspiration to young film makers and new comers who thrive to reach the pinnacle of success in the movie-making business. The jury's main goat is to discover new talents who uphold modern cinema and honor them.
Florence Indian Film Festival: 'River to River' is what they call this festival! Entirely devoted to films from India and about India, this festival takes place in early December.
This is not all! Italy hosts any such film festivals every year. Be a part of any of these film festivals, and you might come across some of your favorite celebrities. All you have to do is contact PerilloTours.com and book a trip to any one of the Italian cities hosting these international film festivals.
Photo By:ukhotmovies