Published on Friday, October 7, 2011 by Daniel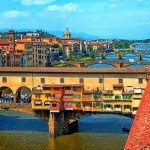 Looking for the ideal travel destination that satisfies your thirst for art in the form of historic museums and monuments? Well, your search ends at the city of Florence! Known for its architectural wonders, Florence located in the central part of Italy is the capital of Tuscany. Offering innumerable tourist attractions, Florence is the perfect destination for travel explorers who love to indulge themselves with Renaissance masterpieces.
A delight for travelers and tourists, a tour of Florence would definitely leave you spellbound and amused. Are you fond of visiting museums and churches depicting ancient history? Then a day tour of Florence is sure to satisfy your fondness. Almost every street has either a church or monument with rich medieval charms and drawings.  Wherever you go, you will find the streets thronged with tourists and visitors. Can you leave Florence without looking at Michelangelo's David and the Uffizi Museum? No way! A rich fusion of art and cultural heritage makes these places "must-sees" in Florence.
When in Florence during the month of September, try to catch two major Florence festivals. The festival of paper lanterns is celebrated on the eve of Feast of the Nativity of the Virgin Mary. People walk through the streets of Florence with carrying paper lanterns with candles. Another major event in Florence in the month of September is the actual celebration of the Feast of the  Nativity of the Virgin Mary that is held in honor of Mother Mary each September 8th. On this day, the terrace around the base of the Duomo Cathedral is made open to visitors, who can walk around it and get a 270° view of Florence's rooftops and surrounding hills.  It is definitely a spectacular sight to behold!
If you feel you have had enough of the cultural wonders in Florence, then entertain yourself with some shopping in the San Lorenzo market. Known for housing the primary establishments for Italian fashion houses, Florence shopping streets are filled with major luxury fashion and jewelry houses including Prada, Chanel, Armani, and Bulgari. If you are looking for one of the best Florence Italy tours, then travel packages from PerilloTours.com are sure to make it easy for you. What are you waiting for? Have the time of your life in the artistic and modern city of Florence.
Photo by: travellingboard.net