Published on Wednesday, October 19, 2011 by Daniel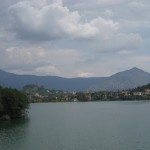 Lakes in Italy are some of the lesser-known tourist spots that lure travelers to the country. Travelers are overwhelmed with the scenic sight that beholds them at these beautiful lakes. If you are looking for an interesting holiday vacation, then plan trips to Italy lakes with your friends and family. The Alpine scenery as well as mountain peaks like Mont Bre and Mont San Salvadore become the perfect backdrop for picnicking.
There are many beautiful and less crowded lakes in northern Italy. They are not swarming with travelers even in high season. But if you are planning for a trip to the well-known northern Italy lakes during summer, then book in advance. You can easily reach here from Milan and Venice. Visiting small lakes like Lake Grafsee are sure to refresh your spirits! This lake is known for its clean water at throughout the year, whatever the season is. Also, hotels on this lake's shore are the perfect spot for a dream wedding.
Previously inhabited by famous poets and artists, the area around the Lake Orta is a tiny treasure. Amongst the northern Italian lakes, it's one of the smallest. You are sure to be impressed by the Sacro Monte located by the lake's shore, for it has the oldest chapel and sanctuary built during the 16th century.
Home to a few celebrities, Lake Como is a must-visit with its clear waters and breathtaking beauty. With a number of scenic towns sitting at its shoreline, you won't have trouble at all travelling or staying close to this lake.
When someone thinks of Italy, monuments and cathedrals are what come to the mind. Holidaying by Italy's lakes will be something you have never encountered before. Looking for a chance to visit these picturesque lakes in Italy? You can easily reach them with the help of PerilloTours.com, a popular and reliable tour provider.
Photo By: 4.bp.blogspot.com