Published on Wednesday, January 11, 2012 by Daniel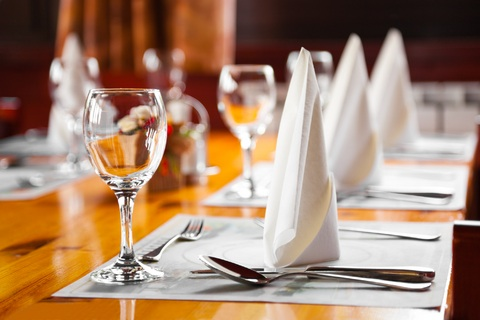 Do you love eating and traveling? Then, Italy is 'the' destination for you!  Dining etiquette varies from country to country. So before you travel Italy, it is wise to know Italy's food etiquette. Italians are crazy about food. Most of the restaurants in Italy serve sumptuously delicious food and it can make your Italy travel more enjoyable!
A formal Italian food menu includes five courses – appetizer, a first course, a second course or the main course, side dish, dessert and a drink.
Italian appetizers are known as 'Antipasti' which means 'before meal'. These starters generally include cured meats, olives, roasted garlic, mushrooms and mozzarella cheese usually topped off with tomato sauce and olive oil. Certain restaurants provide you antipasti buffet with different recipes of appetizers which you can choose from!
First course or the 'Primo' is the first part of Italian food list. It usually includes pasta, soup or rice dishes. Pasta is the most preferred comes in every shape and size with Italian sauces of all kinds. Recipes for Italian food are available on the web. You can check out some popular ones in advance so that you can order and taste them during your Italy travel tour. Once you are finished with the primo, you can go for the main course or 'secondo' which usually consists of meat, fish, and poultry. You can also find few vegetarian offerings in the list.
You can order a vegetable or potato side dish along with the main course. The meal isn't complete for Italians until something sweet, or 'dolce', hits their tongue. Go simple with fresh fruit dessert, or step it up with a rich Italian gelato – their own version of ice cream.
After a dessert you will be served with a digestive drink. Most Italians prefer drinking house wine with their meal.
Almost all shops and restaurants are closed for three to four hours in the afternoon between lunch and dinner. Make sure you buy your needs in the morning.
Bars in Italy are good choice for breakfast. Italian bars not only offer alcoholic beverages but also other food varieties like coffee, pasta, pastry, ice creams, sandwiches and Italian coffee drinks. Moreover, there is no age restriction to enter a bar, making them an advantage for tourists with children!
Thus Italy is not only a land of culture, but also tongue-drooling cuisine! Your travel can be more comfortable and fun-filled with PerilloTours.com.
Photo By: etiquetteoutreach.com