Published on Thursday, April 26, 2012 by JacobMartin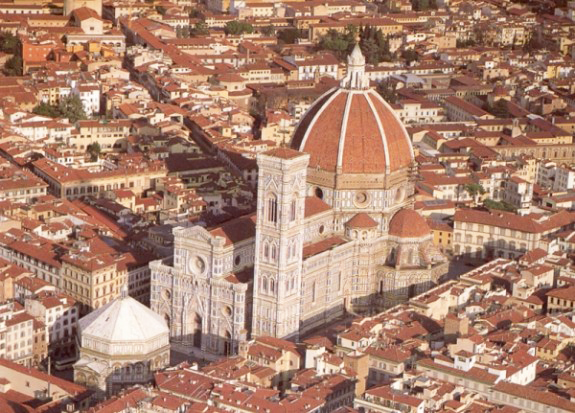 If scrumptious food, active nightlife, and impressive landscapes form one face of Italy, then magnificent architectural remains, stunning historical monuments, and renowned museums form the other. Of all the cities of Italy, Florence remains the epitome of breathtaking Italian architecture. To be precise, the truly interesting art and architecture of Florence is what makes this Italian city a must-visit tourist destination.
If you have planned your vacation to Italy in summer, then you have no good reason to miss a visit to Florence. When you visit this Italian city during the warmer months, you'll probably find the museums and churches there less crowded than the beaches and operas. However, a visit to these monuments can give you a broader insight on the Italian traditions and culture.
Let's begin exploring the historic architecture of Florence!
The Baptistery of St. John:
Also known as the Florence Baptistery, the Baptistery of St. John is one of the of the major Italian tourist attractions. With a unique octagonal shape, it stands gracefully amidst the busy city squares or Piazzas as a fine example of the Florentine Romanesque style of architecture. The exterior of the building has served as an inspiration for many famous architects around the globe. The interior is as beautiful as the exterior and exhibits many interesting sculptures, stained windows, and mosaics created by skilled artisans belonging to the 11th century.
Basilica of Santa Maria Novella:
Built during the 13th century, the Basilica of Santa Maria Novella in Florence is an emblematic representation of the Roman architecture. The church houses several chapels including the glorious Strozzi, Gondi, Della Pura, Rucellai, Bardi, and the Spanish chapel. After a visit to the basilica, you can stride through some of the most elegant Piazza and city squares and take a look at how the area looks completely medieval.
The Pitti Palace and the Boboli Gardens:
When we talk about the architecture of Florence, we definitely cannot afford to miss the splendid Pitti Palace. The palace is named after its first inhabitant Luca Pitti and is situated to the south of river Arno. When you step into the palace, you have so much to explore, such as the large amphitheater, costume gallery, royal apartments, and several museums with priceless artifacts displayed. Behind the Pitti Palace is the eye-catching Boboli Gardens. You will find interesting sculptures dating back to 16th century here! And don't forget to take a panoramic view of the city from here.
Plan your trip to Italy with Perillo Tours to make it more comfortable and fun-filled.
Photo By : nileguide.com