Published on Sunday, May 20, 2012 by Kathy McCabe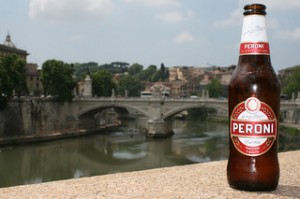 While Italy is known for making some of the finest wines in the world, it hasn't had a big presence on the beer scene…until now. After 200 hundreds years of making beer, Italy and its citizens are  now embracing beer as a popular alternative to wine and sharing Italian beers with the world.
According to Italian news agency ANSA, when asked their drink of choice, "the answer is increasingly likely to be an ice-cold glass of a beer such as Peroni, Nastro Azzurro or Moretti. On the home front, Italy's rich variety of crisp, refreshing pale lagers is even starting to rival wine as the nation's most popular accompaniment when Italians dine out."
And Italian beer manufacturers are spreading the love, beer exports have doubled over the past five years. While Peroni and Nastro Azzuro are the best known Italian brands, other Italian beers are worth trying.
"Menabrea, produced at the northern town of Biella in Piedmont, is one of the best with its distinctive, slightly sour aftertaste that has helped win it a host of international prizes. Another top northern beer is Forst Premium, a zestful brew that its producers from the mostly German-speaking South Tyrol near Austria promise "offers a sense of freshness and joie de vivre,'" ANSA reports.
If you're visiting Rome, a great place to try Italian beers, especially craft beers,  is the bar Open Baladin.
By Kathy McCabe
Ready to travel to Italy this year? Perillo Tours has been leading group trips throughout Italy since 1945 and ItalyVacations.com can custom design an independent itinerary for your dream Italy vacation!
Taking your first trip to Italy in 2012? Learn everything you need to know when you get your FREE copy of The First Timer's Guide to Italy by ItalyTravel.com contributor Kathy McCabe.