Published on Thursday, June 14, 2012 by JacobMartin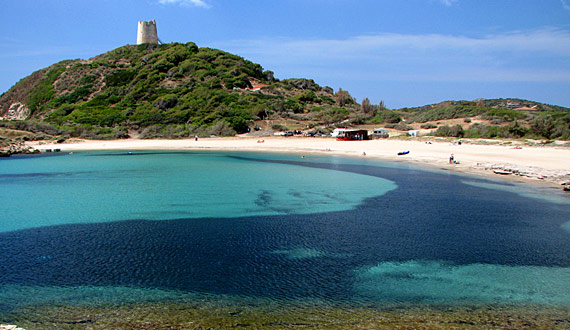 If you are planning a summer vacation, then Sardinia in Italy is the perfect place for you. This exciting city with abundant natural beauty will mesmerize you with its peaceful atmosphere. It has something for every traveler. Hang out on the beaches or explore its wild landscape, it has all that it takes to make a perfect holiday destination. From swimming, boating, windsurfing, hiking, climbing to camping you can try out a wide range of fun activities. It's one of the most famous tourist attractions of Italy.
The best place to start with is its white sandy beaches. The city of Cagliari, which is also the capital of Sardinia, has a wide expanse of sea and coastline. Enjoy the view of sun dipping into the sea as you relax on these stunning beaches. The Poetto and the Cala Mosca are the main beaches in this part of the Island.
Next to the Cagliari is Geremeas. A fascinating place with breathtaking landscape it offers an excellent place to surf. Spiaggia Geremeas and Spiaggia Cannesisa are the main attractions here. These Sardinia beaches offer you all-day fun. Visit these beautiful creations of nature for a fun-filled holiday. Some of the other famous beaches here are Costa Smeralda, Costa Rei and Portobello.
Any holiday to Sardinia is incomplete without visiting the wilds of San Salvatore. You could have probably seen this place in the movies. It has a coveted destination for many movies based on the wild west.
While in Sardinia don't forget to taste some delicious cuisines specific only to this island. The most famous among them is the fishy delights of the city of Cabras. Su Porcheddu and Pecorino are two mouth-watering specialities you shouldn't miss while in Cabra. Cabras is also famous for its archaeological site of Tharros.
Summer in Sardinia is a great time to visit. To know more about beaches in Italy and other tourist attractions of Italy you can visit PerilloTours.com. This site also offers genuine and authentic Italy travel advice.
Photo By : travel-to-sardinia.com