Published on Tuesday, July 10, 2012 by JacobMartin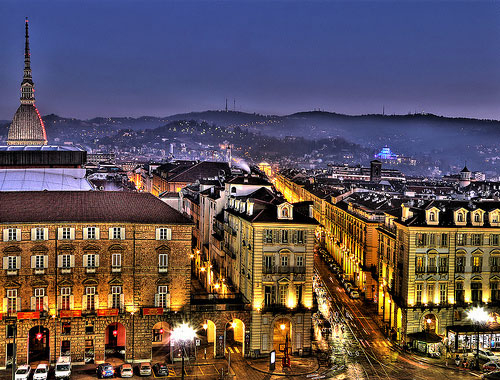 With its public squares, piazza and opera houses Turin is perfect place to visit in this holiday season. Famously known as "Little Paris "it has preserved the charm of it olden days to provide a rare glimpse through the rich history of the region If you are visiting Italy don't forget to Travel to Turin to have lovely times with your friends and family. With its delightful food and striking fashion, it offers ample opportunity to have fun with your loved ones.
Best way to start the tour of this amazing city is by tasting its famous chocolates, and what can get better than visiting a chocolate factory itself! . The Peyrano Fabbrica is one such famous chocolate factory in the city. It is renowned for its traditional way of making almost about 60 different types of chocolates including the popular "giandujotti".
Another famous specialty of this city is its coffees. Fine brewing coffee of various types welcomes you in this city. If you wish to enjoy some true Italian espresso coffee, then make a visit to  Caffè Torino and Caffè San Carlo, two of the finest espresso houses in Turin. Savor their popular Italian foods with their official drink, Bicerin which is a concoction of selected chocolate and thick cream.
And if you are tired after a day full of exquisite sight-seeing, you can head to the nearest Aperitivo, which is a pre-dinner event where you get to try out free antipasti and other dishes to go with your drink. Aperitivo begins around 7 p.m. and ends at 9:30 pm. The active nightlife of Turin can be experienced in pubs like Fluido and La Drogheria where you can enjoy Italian music and wine.
The other best thing about this city is the Italian fashion. High-end boutiques and thrift shops will cater to everyone's need for trendy clothing accessory. Torinese people love to dress up elegantly and famous shop here to buy clothing is Via Garibaldi which has all the latest fashion. If you like to get your hands on some unique stuff then the Porta Palazzo, an open-market is an ideal option.
Gift your family a perfect holiday this summer by taking them on a trip to Turin. To know more about Turin and its other tourist hotspots visit PerilloTours.com. This site also offers practical and genuine Italy travel tips.
Photo By : hotelsearch.com