Published on Monday, August 20, 2012 by Kathy McCabe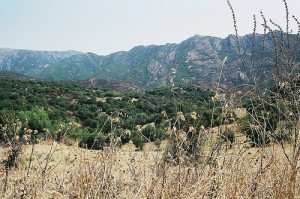 Looking for the fountain of youth? You just might find it on the Italian island of Sardinia, at least that's what scientists think. We  could have told them that! How could a stay at a Sardinia resort not reverse the aging process? Unspoiled beaches, plentiful Sardinian wine and classic shepherd cuisine, spa treatments.
Well, it turns out you just might have to have been born on Sardinia to enjoy ALL the youthful benefits. The island has long been considered a "blue zone" where residents (especially men) commonly live to well over 100. Scientists have studied all kinds of reasons for this from diet to activity level to genetics.
This week the nine Melis siblings are being celebrated as the oldest group of siblings in the world with an average age of 90. The Melis clan lives in the mountainous Ogliastra province of Sardinia, thought to be home to more centenarians than anywhere else on Earth! One of them credits longevity to their minestrone soup!
""We eat genuine food, meaning lots of minestrone and little meat and we are always working," Alfonso Melis, 89, told The Guardian (U.K.) 
You might not have Sardinian genetics but you can still "live like a Sardinian" and hopefully slow down the aging procces. Blue Zone experts suggest:
Drink goat's milk: "A glass of goats milk contains components that might help protect against inflammatory diseases of aging such as heart disease and Alzheimer's.
Take a walk: "Walking five miles a day or more as Sardinian shepherds do provides all the cardiovascular benefits you might expect…"
Laugh with friends: "Men in this Blue Zone are famous for their sardonic sense of humor."
Ready to travel to Italy? Perillo Tours has been leading group trips throughout Italy since 1945 and ItalyVacations.com can custom design an independent itinerary for your dream Italy vacation!
Taking your first trip to Italy soon? Learn everything you need to know when you get your FREE copy of The First Timer's Guide to Italy by ItalyTravel.com contributor Kathy McCabe.
Photo by borkur.net, flickr.com