Published on Thursday, January 31, 2013 by Kathy McCabe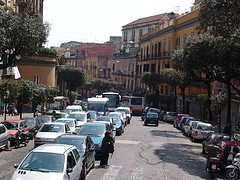 Bella Napoli!
Naples
has long been an Italian treasure. In recent years, this incredible city in Italy's Campania region has gotten a bum rap for mafia exploits, corruption and overflowing garbage. But the city is cleaning up its act, in more ways than one, and remains one of Italy's most vibrant and fascinating destinations.
The New York Times
recently spent
36 hours in Naples
and we picked a few of their finds worth noting for anyone planning a visit to Naples:
Be sure to head to Naples' waterfront for some peace and quite and spectacular views. "In April, cars were banned from the waterfront streets Via Caracciolo and Via Partenope, officially transforming these traffic-choked arteries into a pleasant pedestrian lungomare, or seaside promenade. Stroll along it to take in the marvelous views of Mount Vesuvius, the island of Capri in the distance, and the splendid sunset-painted sky."
Naples is the birthplace of pizza so you can't visit Naples without partaking.  The Times recommends Pizzeria Gino Sorbillo (Via dei Tribunali, 32; 39-081-446-643; sorbillo.it), saying  "Resist the temptation to defect to the other, less crowded pizzeria called Sorbillo on the same street, because it's worth waiting for this traditional pizza margherita (3.30 euros): tomato, mozzarella and basil on a soft, chewy crust that inevitably will sag over the edge of your plate onto the table."
When you're in the mood for what is new and hip, head to the Chiaia neighborhood,says the times. This corner of Naples is "studded with art galleries and boutiques, but it's also the city's prime night-life zone."
The underground of Naples had been known for tunnels and catacombs but now it is becoming famous for art. "A network of tunnels and catacombs lurks beneath the city, but the most exciting thing underground these days is the subway, where contemporary artworks have been installed in 13 metro stations as part of the continuing 'Art Stations' initiative."
Ready to travel to Italy? Perillo Tours has been leading group trips throughout Italy since 1945 and ItalyVacations.com can custom design an independent itinerary for your dream Italy vacation!
Taking your first trip to Italy soon? Learn everything you need to know when you get your FREE copy of The First Timer's Guide to Italy by ItalyTravel.com contributor Kathy McCabe
Photo by Bryce Edwards, flickr.com