Published on Friday, July 12, 2013 by Steve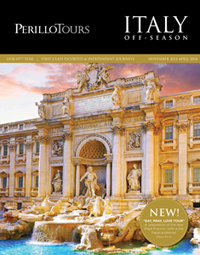 With the arrival of July, half of 2013 is over, but that's okay, there's STILL another half of 2013 to travel to Italy! Plus it is just the right time to start planning your travels for 2014. Perillo Tours can help!
As my father Mario used to say, "Off-Season is bargain time, shopping time and the weather's fine!" This special travel season runs November 2013 to April 2014.
New this off-season, our Eat, Pray, Love Tour gives you the chance to see the new Pope Francis, in person, during his Wednesday audience when he's in town. An unforgettable experience for those of all faiths!
See the full Off-Season Italy brochure