Published on Sunday, March 23, 2014 by Kathy McCabe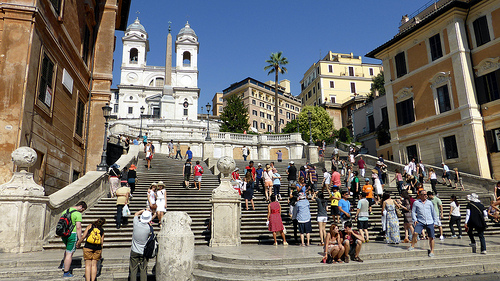 Bulgari has donated  1.5 million euros to the restoration of the famous Spanish Steps in Rome, calling it a "gift" to the Roman people. The Italian jewelry and luxury goods brand is the latest in a series of Italian companies to step in to preserve Italy's heritage among a crushing economic crisis and the cutting of government funds. The refurbishment of 136 of the world's most famous steps will begin in 2015.
Bulgari CEO  Jean-Christophe Babin said  the donation "the special gift from Bulgari to its city" to mark the jeweler's 130th anniversary. Babin said that his company is now "part of an exclusive club of extraordinary donors who decided to donate a substantial sum for the restoration of one of the most beautiful settings on the planet." Fendi is currently contributing to refurbish the Trevi Fountain and Tod's is behind the restoration of the Colosseum.
According to The Guardian, "The culture sector in Italy has suffered budget cuts and funds are expected to be cut further to 1.4 billion euros for 2014, from 1.5 billion euros a year earlier. Many Baroque or Renaissance churches and Roman archaeological sites are closed to the public for lack of maintenance."
New Italian Prime Minister Matteo Renzi issued a call for private investment this month. ""Italy  is a country of culture and so I challenge businessmen. What are you waiting for? If the private sector can keep the wall standing upright, why not allow it to?" he said.
Ready to travel to Italy? Perillo Tours has been leading group trips throughout Italy since 1945 and ItalyVacations.com can custom design an independent itinerary for your dream Italy vacation!
Taking your first trip to Italy soon? Learn everything you need to know when you get your FREE copy of The First Timer's Guide to Italy by ItalyTravel.com contributor Kathy McCabe
Photo by Sean MacEntee, flickr.com