Published on Tuesday, June 17, 2014 by Steve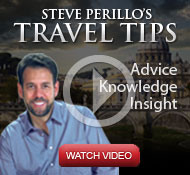 I'm Steve Perillo of Perillo Tours. I have a video series called Steve's Travel Tips to share all the insider Italy travel tips I have learned over a lifetime of travel to Italy.
I don't know about you, but I'm a big believer that breakfast sets the tone for the rest of the day.Maybe it is because they know that there are so many delicious culinary delights to experience all day long, but Italians don't eat big breakfasts. Colazione is the name for breakfast in Italian.
Click here or below to watch my video and learn what makes breakfast in Italy different from back at home.