Published on Wednesday, September 24, 2014 by Kathy McCabe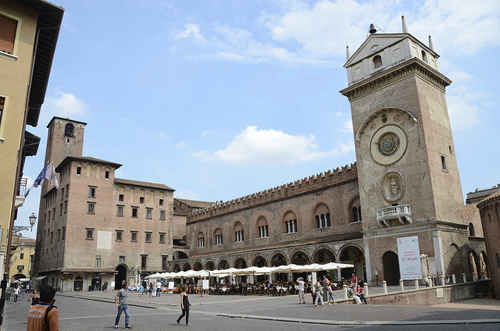 Mantua Italy. Does it ring a bell?  Chances are you have never heard of this small Italian city sitting on the Po River in the northern Italy. But the city has been coming out of the shadows lately, most recently with an article in The Telegraph calling it "The Powerhouse of the Renaissance." Here are some fun facts about Mantua:
1. It's known to Italians as the Sleeping Beauty City (La Bella Addormentata). Mantua thrived during the Renaissance, when the noble Gonzaga family was in power and brought great art and creativity to the region. Today, its beautiful art and architecture are alive and well, and the city's impressive skyline includes castles, domes, and towers.
2. It's Italy's most livable city (as voted by Legambiente, an Italian ecology group). Mantua is close to the oft-visited Verona, fabled home of Romeo and Juliet, but many travelers overlook this small town. Mantua is surrounded by wetlands, leaving the city's small size and population (48,000 people) similar to that of its Renaissance days. The city is affordable to visit compared to the rest of Italy, and is largely unaffected by urban development.
3. It was the home of royalty.  The Gonzaga family ruled Mantua for nearly 400 years, from 1328 to 1708. As a result, these nobles became well-known and celebrated and, of course, built their own palace. After the Vatican, the Palazzo Ducale is the second-largest residence in Italy, with 500 rooms, a castle, gardens, frescoes, and art galleries.
4. Mantua has excellent food. The city's most notable food products are pumpkins (often used in filled pastas) and stracotto d'asino, a stew made with donkey meat and cooked for eight hours. Though many restaurants that serve visitors now use beef instead, locals still take pride in and prefer the dish in its original form. When it's time for the daily aperitivo, many bars serve a free buffet of snacks such as pizzette, pasta, cheese and charcuterie.
5. It has been the setting for several of Italy's most beloved works of art and artists. Mantua has influenced Giuseppe Verdi's opera Rigoletto, Shakespeare's Much Ado About Nothing and Romeo and Juliet, and was the birthplace of Virgil. Over the years, famous visitors to the town such as Peter Paul Rubens, Giulio Romano, and Petrarch enriched its history, and their traces can still be seen in Mantua today.
Ready to travel to Italy? Perillo Tours has been leading group trips throughout Italy since 1945 and ItalyVacations.com can custom design an independent itinerary for your dream Italy vacation!
Taking your first trip to Italy soon? Learn everything you need to know when you get your FREE copy of The First Timer's Guide to Italy by ItalyTravel.com contributor Kathy McCabe
Photo by Dave Snowden, flickr.com