Published on Tuesday, October 14, 2014 by Kathy McCabe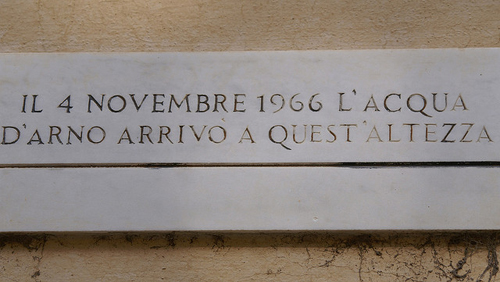 The small silver plaques posted on the sides of buildings in Florence are inconspicuous, but their significance isn't lost on Florentines. These rectangular flood markers all around the city, dating from medieval times, have inscriptions with the date of each flood and a line indicating how high the water rose that year.
Florence is prone to flooding due to torrential autumn rains that swell the Arno River, with 56 floods documented since 1177; the last major one occurred on Nov. 4, 1966. Some plaques from the flood of 1966 are placed at 2 meters (6.6 feet) high, but others reach 6.7 meters (22 feet), commemorating the worst flood in Florence since 1557. During the flood, 600,000 tons of mud, oil, waste, and rubble covered 14,000 pieces of art and three to four million books, effectively compromising Florence's rich cultural legacy.
The city was woefully unprepared for the devastation, and more than 100 people died, while hundreds of others worked hard to restore the city. Many of these precious pieces of art and history have been painstakingly restored, but the flood's lasting effects inspired preservation efforts in Italy and abroad.
Today, memories of the flood of 1966 haunt those who can remember it, while the silver flood markers remind those too young to remember of the importance of being prepared for the next flood.
Ready to travel to Italy? Perillo Tours has been leading group trips throughout Italy since 1945 and ItalyVacations.com can custom design an independent itinerary for your dream Italy vacation!
Taking your first trip to Italy soon? Learn everything you need to know when you get your FREE copy of The First Timer's Guide to Italy by ItalyTravel.com contributor Kathy McCabe
Photo by Gerry Labrijin, flickr.com