Published on Wednesday, October 15, 2014 by Kathy McCabe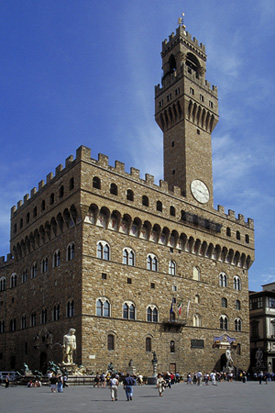 Archaeological excavations have proven that the heart of Florence has been in the same spot for thousands of years – underneath the famous Palazzo Vecchio, itself built in 1299. The excavations unearthed the ruins of an ancient Roman amphitheater in Florence, extending to nearby Piazza della Signoria, where archaeologists have found objects dating to the ancient Roman city of Florentia from 30 to 15 B.C. Archaeologists believe the theater was in use from the first or second century A.D. to the fifth century A.D.
Though still an active archaeological site, the ruins are open to the public. Videos projected on the site's walls illustrate the history of Palazzo Vecchio and the amphitheater, while visitors can book free tours of the site by contacting info@muse.comune.fi.it.
Investigations show that the outdoor amphitheater was designed to hold between 5,000 and 15,000 guests. Archaeologists have unearthed stone corridors and walls, 10-meter-deep (32.8 feet) wells for water, confined spaces for wild animals to be kept before and after performances,
"The project is of great historical significance because it is the only complex of ancient Roman ruins that can be visited in Florence," the Mayor of Florence, Dario Nardella, told Italy Magazine.
Though excavations have been underway for years, the Archaeological Cooperative formally announced the findings at the UNESCO World Forum on Culture and Cultural Industries held in Florence from Oct. 2 to 4, 2014.
Ready to travel to Italy? Perillo Tours has been leading group trips throughout Italy since 1945 and ItalyVacations.com can custom design an independent itinerary for your dream Italy vacation!
Taking your first trip to Italy soon? Learn everything you need to know when you get your FREE copy of The First Timer's Guide to Italy by ItalyTravel.com contributor Kathy McCabe
Photo by MCAD Library, flickr.com