Published on Saturday, November 22, 2014 by Kathy McCabe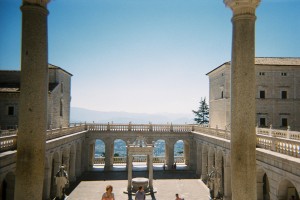 Imagine waking up to the sound of a bell that's been gently tolling for hundreds of years—or savoring a meal made with herbs from a garden tended by a religious order. The hundreds of convents and monasteries that dot Italy top to toe aren't just reminders of the country's long history of faith. Today, visitors can choose different ways to experience these institutions, some with a distinctly spiritual savor, others with decidedly secular flavor.
STAY: A very easy option, as over 400 convents and monasteries offer lodging, from simple rooms to institutional takeovers. The cost is usually very low, starting at $30 a night (yes, $30!). However, don't plan a shindig for your overnight: These guesthouses ask that you honor daily religious life and curfews, remain quiet and respectful, and sometimes (very rarely) attend major masses. Most tourism offices can provide recommendations; there are some good books with listings, too.
DINE: At Florence's La Certosa restaurant, the first thing you will see is the beautiful Cistercian monastery charterhouse—it's still active. The restaurant, which can also host events, emphasizes "ancient flavors," meaning mostly local, fresh nuts, oils, produce, salumi, meats, and pastas. La Certosa provides monastery tours (the cloister has some important artworks), as well as folk music and other entertainments in the old style for groups booking large dinner evenings.
BUY: Many American luxury shoppers already know about the heady scents made at Santa Maria Novella Convent in Florence. But there are other products inspired or made by nuns and monks in Italy. In Sicily's Erice, nuns handed down their recipes for marzipan and pastries to the proprietor of Pasticerria Grammatico Maria, who still follows them, although the town's convent is closed. And Ai Monasteri  in Rome sells all sorts of goodies, from sweets to salves, made by nuns and monks.
STROLL: Follow in the footsteps of St. Francis by taking the 15-minute walk from his hometown of Assisi to the monastery where he first dedicated his life to God, San Damiano. You'll be surrounded by olive groves and sheep meadows, the region's chief resources, until you arrive at the simple stone structure that is connected to the Convent of Saint Clare (Santa Chiara).
LEARN: Even if you don't want to have any kind of spiritual experience, a visit to one of Italy's religious houses can provide a great deal of education about a way of life that was once vital to Italian communities. Monasteries like Montecassino (where Saint Benedict composed his famous Rule) and Subiaco have excellent tours and well-curated museums that highlight not just how monks lived within but also how they interacted with church officials and laypersons.
By Kathy McCabe
Ready to travel to Italy? Perillo Tours has been leading group trips throughout Italy since 1945 and ItalyVacations.com can custom design an independent itinerary for your dream Italy vacation!
Taking your first trip to Italy soon? Learn everything you need to know when you get your FREE copy of The First Timer's Guide to Italy by ItalyTravel.com contributor Kathy McCabe
Photo by andyhay, flickr.com