Published on Wednesday, December 3, 2014 by Kathy McCabe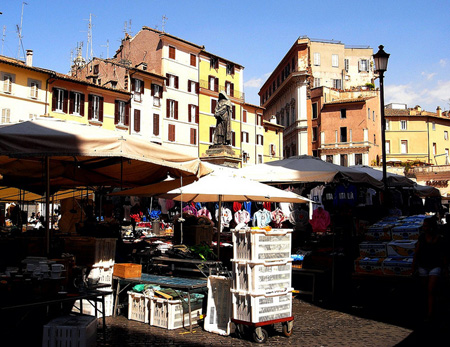 Well, actually, the five best from among both the mercatini delle pulci (flea markets) and the mercatini dell'usato (second-hand markets), because both can be fun and because the latter type has gotten more and more popular in recent years.
Biggest: Carmagnola in Turin may not have the largest number of stalls, but it's laid out over the greatest amount of land, and will give you a terrific sense of the town as you wend your way through side streets and other boulevards off of the main square.
Prettiest: Cormano, near Milan, wins this one hands down, due to the city's historical silk industry. A great place to shop for beautiful fabrics, this flea market is also very large and very varied. Fine silver jewelry may nestle right beside cheap plastic toys. But that means right next to a pile of plastic, you might find a gorgeous necklace, right? Keep looking…
Tastiest: Lake Maggiore's Borgo d'Ale flea market is known for its local delicacies, from the traditional regional risotto, to Grana Padano cheese, to polenta in every form. Whether it's the good food, the 350 stalls of products, or the fresh mountain air, Borgo d'Ale has a laid-back feel, less frenetic than many others.
Oldest: This is not necessarily verifiable, but Rome's Campo de' Fiori market, which takes place every day except Sunday (certo) is the most historic one, and remains a vital part of the city's daily rounds. Loads of fresh produce plus a little of this and a little of that make it easy to return to again and again. (Pictured above.)
Cheapest: Have you heard of warehouse markets? If not, check out the Mercatino di Torina in Alba (Piedmont)—you'll find everything, and we mean everything, including the proverbial kitchen sink—kitchen and bathroom fittings are one of the best bargains at these crazy sales where homeowners and householders take their unwanted furnishings. After a month, the prices go down—so do go back!
By Kathy McCabe
Ready to travel to Italy? Perillo Tours has been leading group trips throughout Italy since 1945 and ItalyVacations.com can custom design an independent itinerary for your dream Italy vacation!
Taking your first trip to Italy soon? Learn everything you need to know when you get your FREE copy of The First Timer's Guide to Italy by ItalyTravel.com contributor Kathy McCabe
Photo by kudumomo, flickr.com