Published on Thursday, March 5, 2015 by Kathy McCabe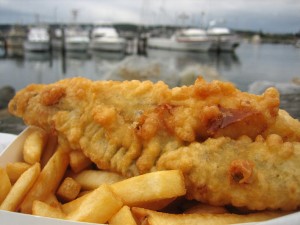 It isn't often that a school lunch threatens diplomatic discord, but when a group of chefs designing menus in Rome for students (from nursery to middle-school ages) chose fish and chips as an "EU menu item" representing "Britain," they unwittingly found themselves at the center of international furore. It turns out that the Italians think fish and chips are…an Italian invention!
According to The Telegraph, first, the students' parents objected to fried fish and deep-fried potatoes as lunch choices, pointing out that those food items aren't particularly healthy, and not in keeping with the "Mediterranean diet." The special "EU menu," served to around 145,000 students in the area of Rome, also featured dishes like paella, goulash, and croque-monsieur sandwiches, none of which particularly meet the "Mediterranean diet" guidelines, and all of which are iconic foods from other European countries.
Something about the deep-fat-frying of both fish and potatoes struck Roman parents the wrong way (after all, if you add up the calories and fat in a croque-monsieur, which involves ham, cheese, butter, and béchamel sauce, they're pretty similar to fried cod and chips: Both are between 480-600 calories, depending on portion size).
Chefs countered with the notion that fish and chips—so iconic to the British Isles—was actually straight from the "Mediterranean diet," having been imported from Venice to England hundreds of years ago. The group pointed to a passage about a fried fish warehouse in Charles Dickens' classic 1839 novel Oliver Twist as proof of the claim. In that passage, found in Chapter 26, the only clue that points to any sort of Italian involvement is that the lane in which such places could be found was populated by "sallow denizens;" there is not a mention of Italy anywhere.
Naturally, the British press could not ignore this foodie flag waved in their faces. In The Telegraph, the treasurer of the National Association of Fish Friers, Andrew Cook said he had never heard anything about fish and chips being an Italian invention, noting that its first appearance in England was in about 1860, with Lee's of Mossley near Manchester and Malin's of London both claiming to be the first to serve the dish. On The Daily Mail site, one commenter said "It doesn't matter who invented it, the British make the best."
To complicate matters further, BBC Magazine reports in a 2009 "150th anniversary of fish and chips" tribute that "The story of the humble chip goes back to the 17th Century to either Belgium or France, depending who you believe. Oddly enough, the chip may have been invented as a substitute for fish, rather than an accompaniment. When the rivers froze over and nothing could be caught, resourceful housewives began cutting potatoes into fishy shapes and frying them as an alternative. Around the same time, fried fish was introduced into Britain by Jewish refugees from Portugal and Spain." No reference to Italy at all!
No matter where the school chefs got their idea that fish and chips originated in Italy, their idea for the menu was shot down. Parents successfully lobbied for the fried foods to be replaced—by pasta. There will be few complaints about that, right? Oh, wait: Marco Polo supposedly brought noodles back to Italy from Asia…
By Kathy McCabe
Ready to travel to Italy? Perillo Tours has been leading group trips throughout Italy since 1945 and ItalyVacations.com can custom design an independent itinerary for your dream Italy vacation!
Taking your first trip to Italy soon? Learn everything you need to know when you get your FREE copy of The First Timer's Guide to Italy by ItalyTravel.com contributor Kathy McCabe
Photo by Fiona Wilkinson, flickr.com