Published on Sunday, March 29, 2015 by Kathy McCabe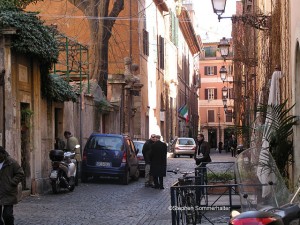 In just three blocks, Via Margutta, the shortest street in Rome, encapsulates at least 2,000 years of history and at least a dozen famous names, including Italy's celebrated filmmaker Federico Fellini, who lived at No. 110 with his actress wife Giulietta Masina.
The April 2015 issue of Smithsonian Magazine carries journalist Jeff MacGregor's love letter to the storied stones of Via Margutta, which many Americans will recognize from its role in the Grant and Hepburn classic Roman Holiday, when the starcrossed pair head to Via Margutta, 51 in a taxi. The street, tucked away yet right in the middle of "tourist Rome" (it's very close to the Spanish Steps), "is one of the most beautiful streets anywhere," writes MacGregor.
Over the centuries, plenty of artists, writers, and craftsmen have agreed with him, from the aforementioned Fellini to composers Claude Debussy and Richard Wagner, painters Pablo Picasso and Cy Twombly, and writers Truman Capote and Woody Allen, all of whom lived or spent time on Via Margutta.
The article's photo gallery includes images of life both chic and everyday, the street's "twin" churches (Santa Maria di Montesanto and Santa Maria dei Miracoli), the piazzas (di Spagna and di Popolo) that bookend it, and some of the cafes and businesses that line its time-smoothed terracotta facades.
Despite its central location, Via Margutta is rarely overrun, probably because its remains largely residential, its few shops more devoted to crafts (frames, stone carving, antiques) than souvenirs and fashion. MacGregor also notes that "To this day, there is an annual painters' festival on the street," which is why its Fontana delle Arti has a carving of a bucket full of brushes on top.
If you visit—which really means taking a stroll—you can cap off your exertions with a glass of Prosecco at the luxurious Hotel de Russie, or perhaps un aperitivo at the humbler Osteria Margutta, and enjoy the evening light as it plays off the warm sandstone buildings.