Published on Thursday, April 9, 2015 by Kathy McCabe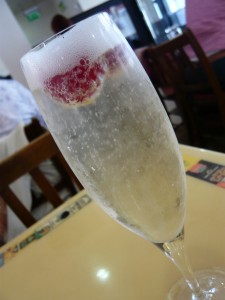 Italian wine lovers won't be surprised that sales of Prosecco have outstripped those of Champagne around the world. Cheaper and sweeter than its French competition, Prosecco is an affordable indulgence that is nonetheless excellent sparkling wine on its own merits.
Prosecco DOC comes from the Veneto,the region that is home to Venice. Complicating the picture is Prosecco DOCG, usually called Superiore or Grand Cru, classifications that are harvested in Conegliano-Valdobbiadene and Asolo, valleys where the Glera grapes grown in the hilly Veneto flourish and grow a bit sweeter, although the average consumer usually does not understand the distinction.
One way to grasp it is that DOC areas produce about 230 million bottles each year, while DOCG areas produce just 70 million. Wine expert Jeremy Parzen recommends seeking out Bisol, Nino Franco and Adami Prosecco exports on the high end; he also recommends Prosecco DOCG Còlfondo, an old-school "bottle-fermented" type.
Until the early 21st century, most Prosecco, DOC and DOCG, was exported to northern European countries like Germany, but in the past couple of years, sales have skyrocketed in Great Britain (exports were up 60% in 2014 alone) and the United States (up 30% last year). With new markets opening up in Asia, and particularly China, this is all great news for Italy's wine producers and exporters. Unfortunately, banner sales in 2014 came in tandem with a terrible harvest. Last year's hard rains mean that not only will production be reduced, perhaps by as much as 30%, but that Prosecco grapes harvested may have different acidity levels.
As Italy is the world's largest wine producer, the poor harvest may hit the country's economy hard, an economy that is already close to stagnation. What's an oenophile and Italophile to do? For wines from regions like Puglia and Sicily, stockpile now—but the sparkly news for Prosecco fans is that the DOC board allowed producers to use their stockpiles to prevent prices from rising too steeply. Higher costs for Prosecco will likely not be passed on to the consumer.
By Kathy McCabe
Ready to travel to Italy? Perillo Tours has been leading group trips throughout Italy since 1945 and ItalyVacations.com can custom design an independent itinerary for your dream Italy vacation!
Taking your first trip to Italy soon? Learn everything you need to know when you get your FREE copy of The First Timer's Guide to Italy by ItalyTravel.com contributor Kathy McCabe
Photo by Jessica Spengler, flickr.com