Published on Wednesday, May 20, 2015 by Kathy McCabe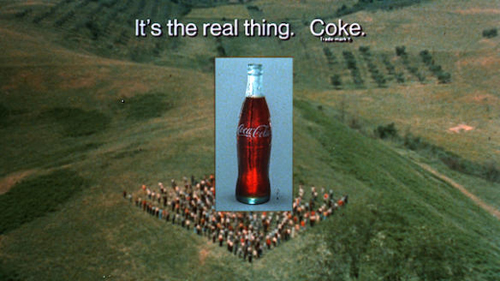 The final episode of AMC's celebrated series Mad Men  had its finale in an iconic cultural moment that was filmed, not in California (as you might believe), but on a hilltop near Rome! The 1971 Coca-Cola television commercial in which people from around the world sang a jingle about love and harmony was actually produced, not by the fictional Don Draper, but by a real-life ad man named Bill Backer.
Backer was creative director at McCann-Erickson, the agency that buys "Mad Men's" Sterling Draper Price in Season Seven of the show. After experiencing a delayed flight and noticing that passengers chatted over bottles of Coca-Cola, Backer came up with the idea of Coke as "more than a drink…as a tiny bit of commonality between all peoples."
McCann-Erickson backed it, and with the aid of music director Roquel "Billy" Davis, , and art director Harvey Gabor, hired a British team of songwriters and wrote "I'd Like to Buy the World A Coke." The New Seekers recorded it, and after the summer 1971 success of the commercial, also released "I'd Like to Teach the World to Sing (In Perfect Harmony)," a version without any references to the soft drink.
After a couple of disastrous rained-out shoots, the commercial known as "Hilltop" was filmed outside of Rome in the spring of 1971. Five hundred young people of all races, ethnicities and looks were hired from embassies and schools in Rome, while the lead singer, Linda Higson, was a British nanny who was found while pushing her charges through the Piazza Navona in a pram. Some of the close-ups were filmed at a nearby racetrack, because the crew found power and electrical lines on the Roman hilltop difficult to circumvent.
In 1989, The Coca-Cola Company reunited Higson (now Mrs. Neary) and other original cast members along with new ones to produce a reunion ad, filmed on the same hilltop—near Manziana, a Roman municipality about 20 miles northwest of the city center. Not surprisingly, the area's tourism web site proclaims its natural beauty and relatively rural terrain, which includes a forest, a wildlife preserve and wetlands. Although there isn't much excitement, even Don Draper would appreciate the gorgeous accommodations at the Villa Clodia in nearby Manzanita.
By Kathy McCabe
Ready to travel to Italy? Perillo Tours has been leading group trips throughout Italy since 1945 and ItalyVacations.com can custom design an independent itinerary for your dream Italy vacation!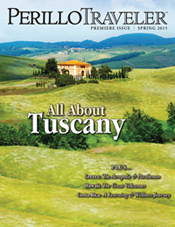 Want to read more about travel? Get your free copy of our new digital magazine, Perillo Traveler!