Published on Thursday, July 2, 2015 by Kathy McCabe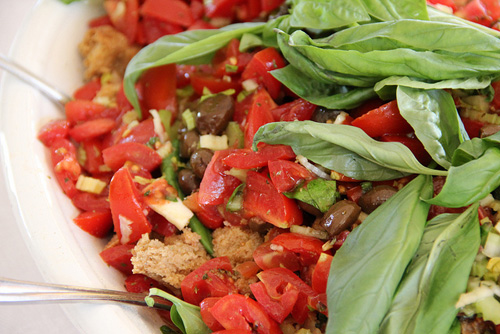 Looking to bring some Italian inspiration to your summer dining or July 4th BBQ or picnic? Do as the Tuscans do and make panzanella salad. Like all Italian cuisine it is fresh, simple and oh so delicious! Panzanella comes from the tradition of cucina povera – the simple dishes of the poor peasants. They wanted a way to utilize day-old bread and panzanella was born!
Recipe: Tuscan Panzanella Salad
Ingredients:
1 lb rustic bread, stale
3 large tomatoes, ripened or 1 container of cherry tomatoes
1 large red onion
1 cup of cut up pitted Gaeta or Kalamata olives (optional)
2 sprigs of basil
extra virgin olive oil to taste
vinegar to taste
salt and pepper to taste
Preparation:
Cut the bread into cubes and drizzle with olive oil. Bake in oven a 375 degrees for 10-12 minutes until crispy. Once cooled off, place in a salad bowl and add cut up tomatoes, olives and sliced onion and basil leaves. Add salt and pepper and refrigerate.
When it is time to serve, add a splash of vinegar and olive oil.
The only thing better than making panzanella at home is EATING IT IN ITALY! Come to Italy with Perillo Tours and taste it for yourself.
By Kathy McCabe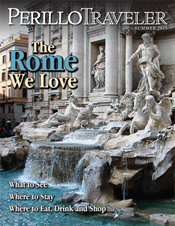 Want to read more about travel? Get your free copy of our new digital magazine, Perillo Traveler!