Published on Wednesday, September 9, 2015 by Kathy McCabe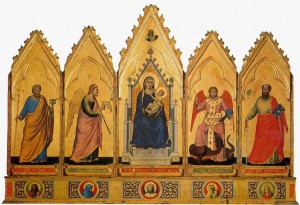 Famous for his frescoes and for his work on the Scrovegni Chapel in Padua, 14th-century Florentine painter Giotto di Bondone was the most revered and revolutionary Italian painter of his time. He is considered one of the fathers of the Renaissance and the first traveling artist in Italy, and his heavyweight artistic influence sparked the beginning of the Renaissance and endured through Michelangelo's heyday more than two centuries later. Still a relevant artist today, Giotto is being honored in a special exhibition at Milan's Palazzo Reale, running through January 10, 2016.
Unlike his predecessors and immediate contemporaries, Giotto painted lifelike and passionate humans, usually religious figures such as saints and popes. This authenticity of the human figure led several religious leaders and the King of Naples to commission his work in churches all over Italy.
Giotto created his final works at the Palazzo Reale in Milan – frescoes for Milanese lord Azzone Visconti, who ruled over Milan in the 14th century – but no trace remains of them. (His last viewable work is in the Podesta Chapel in Florence, the city where he died.) Now, as a tribute to the master's brief time in Milan, the Palazzo Reale is hosting the prominent exhibit as a sort of map of Giotto's route to prominence throughout Italy, showcasing his paintings from all over Italy.
The current exhibit, Giotto L'Italia, comprises 13 wood-panel paintings spanning the length of Giotto's 40-year career and portraying life in Italy at the end of the Middle Ages. On loan from museums in the Vatican, Bologna and Florence are the tempera-paint masterpieces of the Stefaneschi Triptych (commissioned for the altar at St. Peter's Basilica), the Bologna Polyptych and the Badia Polyptych, respectively. The top and bottom parts of the Badia Polyptych, which are housed separately in the San Diego Museum of Art and in the Uffizi Gallery, will be rejoined for the exhibition. Some of his earliest works are included, such as paintings from Florence and Assisi, as well as panels from the Scrovegni Chapel.
By Kathy McCabe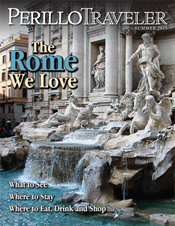 Want to read more about travel? Get your free copy of our new digital magazine, Perillo Traveler!