Published on Thursday, September 3, 2015 by Kathy McCabe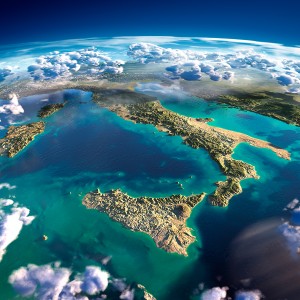 One of the best ways to experience Italy vicariously is to check out what famous travelers find best there. This summer, quite a few chefs, designers and stars have offered lists of their preferred restaurants, watering holes, cities, and sights in bella Italia, and we're rounding them up right here so you don't have to do anything more strenuous than click. Perhaps a few of the things on these lists will help you plan your next trip.
Trina Turk on Italian Favorites
You can't go wrong with Capri, Naples and Taormina, the places designer Trina Turk chose for her 2015 holiday, any more than you can go wrong with her daily lunch order: "rocket salad with parmesan and grilled branzino." (She likes Da Luigi on Capri.) The video "Flipagram" accompanying the ABC News article is a visual pop of color, just like Turk's well-known prints that grace everything from bikinis to iPhone covers these days. She has an eye for natural objects, too—note the splash of red geranium in the final beach shapshot. Also included is her packing list, from "an armload of bangles" to "printed anything"—evidently Ms. Turk prefers paper to plastic, at least in her reading choices.
Angela Hartnett on Gourmet Getaways in Emilia-Romagna
Star British chef Angela Hartnett, who made a splash at The Connaught before opening Murano, Café Murano, a cookery school at Lime Wood, and a soon-to-come French Alps resort restaurant. The kicker  is that despite her veddy English name, Hartnett's grandparents lived in Bardi before emigrating to Wales, and she spent much of her childhood there. She tells The Telegraph that "Most of what British people think of as basic Italian food" comes from Emilia-Romagna, including of course Parma ham, Parmesan cheese and balsamic vinegar from Modena. In this list, there's also a link to Hartnett's favorite restaurants in the region.
Elizabeth Blau on A Great Summer Trip to Italy
If you've had a good—or even great—meal in Las Vegas in the last decade or so, you can thank Elizabeth Blau, who with her husband Kim Canteenwalla has started or had an interest in or supported nearly every fine-dining destination in that crazy town, from their original Honey Salt on to The Venetian and, of course, The Bellagio (Blau started her career with Sirio Maccioni–yes, there's always an Italian connection!). As restaurateurs, spouses, and parents, Blau and Canteenwalla view their summer vacation as a chance to rest, but also recharge their professional circuits. While her article about the highlights of their 2015 sojourn in Italy includes Rome, Florence and things like Eataly, it also mentions "amazing tomatoes" in a small port town, and the pleasures ending evenings with simple cantuccini and vin santo.
By Kathy McCabe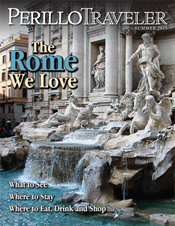 Want to read more about travel? Get your free copy of our new digital magazine, Perillo Traveler!