Published on Thursday, May 26, 2016 by Kathy McCabe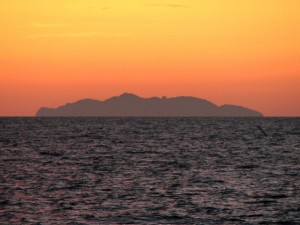 This spring, a previously off-limits and isolated island 23 miles off the coast of Tuscany is opening to the public for guided tours for the first time. The northernmost island in the Tuscan Archipelago National Park, Gorgona is also the smallest and hardest to access — understandably so, as it is a prison that necessarily controls interactions with outsiders. Previously, visitors had to receive permission to travel to the island by writing to the Italian Ministry of Justice; now, the public is granted access through guided day tours only.
As Gorgona is part of a national park, it is known for its wildlife and ecology, especially marine birds and the Corsican finch, which lives on Gorgona and only four other islands. The island's plant species are also unique and include evergreens and prehistoric forests. The island can house up to 136 inmates, several dozen police officers and government workers, and a handful of permanent residents and summer residents whose families have owned properties on Gorgona for centuries.
It became an agricultural penal colony in 1869, and in 2012 the Ministry of Justice began partnering with businesses to employ prisoners, equip them with professional skills and ease their transition back into society and the workplace when they are released.
One such business is Tuscan winery Marchesi de' Frescobaldi, which invests in the prisoners and the island to gain labor to tend to the otherwise inaccessible vineyards. Frescobaldi pays inmates in exchange for the right to sell the wine they produce, and is open to hiring them on the Italian mainland after they are released. In 2013, prisoners produced 225 cases of white wine, which sold in Italy, France, and the U.S. under the Frescobaldi Gorgona label.
Besides trying their hand at winemaking, the prisoners, who are mostly violent offenders, make olive oil and cheese, grow vegetables, and care for livestock such as pigs and chickens. In order to do their jobs, and because Gorgona has restrictions on visitors and few residents, inmates are allowed to move freely about the island so long as they meet evening curfews and lockdown inspections.
The island tours begin at the port of Livorno, where visitors board a ferry for a 1.5-hour cruise. Guides take visitors — three groups of up to 25 people each per day — through the island on a predetermined route, including to the beach and around the island on an easy 3- to 8-kilometer hike (1.8 to 4.9 miles). As Gorgona is a working prison, visitors cannot bring mobile phones or cameras onto the island and must stay with the tour group at all times.
Tickets are 52€ for the return boat trip and the national park entrance fee and do not include the fee for the tour guide. Tours depart at 7:45 a.m. from Livorno and return between 6:30 and 7:30 p.m.
By Kathy McCabe
Want to read more about travel? Get your free copy of our new digital magazine, Perillo Traveler!