Published on Thursday, May 12, 2016 by Kathy McCabe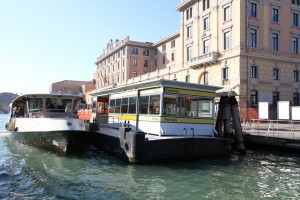 If your Italian travel plans include Venice this summer, be aware that your wait for a classic vaporetto (water bus) ride may be longer than you expect. As reported in The Local, Venetian authorities have authorized residents to board first.
Starting in June, at eight water bus stops (including Canal Grande, Santa Chiara, Santa Lucia e Rialto, San Marco, Lido, Murano and Burano), those holding a Venezia Unico Oro (United Venice Gold card) will have priority boarding. Others—tourists from overseas, or visitors from another region of Italy—will have to wait in a separate queue.
Venice's 55,000 residents have long complained about crowding and waiting on vaporetti because of tourist groups and their luggage. Mayor Luigi Brugnaro told La Repubblica "This is a way of saving the city and making it more liveable. . .  A worker who wants to get home after spending eight hours in the heat of the glass factory in Murano, or a mother who has to rush to collect her child from nursery, should be able to do so without huddling together with coach parties, or with the risk of delay."
The city attracts 20 million visitors per year, and the water buses accommodate 70 million passengers in a typical year. Of course, tourist traffic is crucial to these vessels, and since Gold Card holders pay a substantially lower per-ride fee than nonresidents, it remains to be seen whether or not this new plan will work (previous, similar schemes never made it off the drawing board). Meanwhile, you might want to be sure you arrive at your vaporetto stop with a cool drink and something to read while you wait. And relax—Venice is not called La Serenissima for nothing!
By Kathy McCabe
Want to read more about travel? Get your free copy of our new digital magazine, Perillo Traveler!