Published on Friday, June 10, 2016 by Kathy McCabe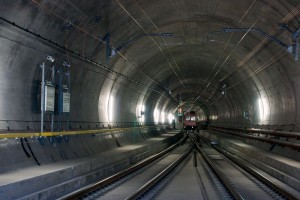 On June 1, high-speed passenger trains began cruising through Europe's – and the world's – newest and longest railway tunnel, cutting travel time between Zurich and Milan by one hour. The new Gotthard Base Tunnel is 57 kilometers (35.4 miles) long and was carved through the central Swiss Alps. It is almost four times longer than the original Gotthard Tunnel to its west, which is still in operation and opened in 1881 to transport passengers for 15 kilometers (nine miles), also through central Swiss Alps.
The Gotthard Base Tunnel was conceptualized almost 70 years ago, and now that it is complete, it not only broke the record for Europe's longest tunnel, but also for most expensive: construction took 17 years and cost $12.5 billion.
The passenger journey from Zurich to Milan now takes about three hours instead of four; freight trains use the tunnel as well. European Union leaders envision a high-speed rail corridor eventually connecting the continent's busiest port of Rotterdam, Netherlands, in the north and the Tyrrhenian coastal city of Genoa, Italy, in the south. Freight trains reach speeds up to 100 miles per hour, while passenger trains travel at 125 miles per hour, though in the future, passenger trains are expected to reach 155 miles per hour.
In a video on Twitter, European Union Transportation Commissioner Violeta Bulc called the tunnel "a milestone in European rail history and a major contribution of Switzerland to bringing Europe and Europeans closer together."
The inaugural ride on June 1 carried 500 passengers, and once the train is fully operational by the end of 2016, traffic will increase to about 260 freight trains and 65 passenger trains per day. Freight trains will also eventually replace 1 million trucks in carrying goods.
By Kathy McCabe
Want to read more about travel? Get your free copy of our new digital magazine, Perillo Traveler!