Published on Friday, June 24, 2016 by Kathy McCabe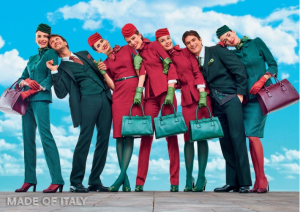 As part of a rebranding to fit in with shareholder Etihad Airways, Alitalia unveiled new staff uniforms in May. A red, green and navy blue color scheme replaces the former navy blue and green, and the outfits are designed by Milan-based fashion designer Ettore Bilotta – who also designed new uniforms for Etihad Airways in 2015 – and tailor-made by 500 other Italian haute couturiers.
The sleek, stylish uniforms were inspired by the glamorous Italian fashion of the 1950s and 1960s. Every aspect encompasses the "Made of Italy" theme: men's uniforms are tailored in Puglia, shoes are made in Le Marche, the gloves in Naples, men's and women's uniform fabrics in Tuscany and silks in Como. Flight attendants' uniforms will have red accents, while ground crew will wear green – the colors of the Italian flag.
Female flight attendants can choose between trousers, a red two-piece skirt suit, and a red midi dress, with the same options in green for ground crew. Men's uniforms comprise navy trousers and a navy jacket, with red or green accents such as ties. Accessories include pillbox hats, gloves, scarves, cardigans, and wool waistcoats.
Alitalia CEO Cramer Ball told travel news site Skift, "We are introducing a new look which captures the spirit of Alitalia today as it continues on its journey of renewal and growth. Our aim was to create a stylish collection which would represent Italian excellence around the world. The new uniforms complement the renaissance of the Alitalia brand and the rejuvenation of its aircraft fleet and products for its customers."
Alitalia also opened new passenger lounges in the Rome Fiumicino and Milan Malpensa airports, with a theme of "Casa Italia," meant to imitate the look and feel of an Italian home. In the two lounges are bathrooms with showers, a prayer room, a library, private meeting rooms, and a cooking area and buffet.
The Rome Fiumicino lounge is 800 square meters (8,611 square feet) and is located in boarding area G, while the Milan Malpensa lounge is in the Satellite Nord boarding area and is 500 square meters (5,382 square feet). The lounges are open to business class passengers as well as Alitalia American Express Platinum cardholdes who are traveling with Alitalia, and Freccia Alata, Freccia Alata Plus and SkyTeam Elite Plus members.
The airline also renovated lounges in the Venice, Catania, Milan Linate and Rome Fiumicino airports, and is in the process of renovating lounges at the New York JFK and Naples Capodichino airports as well as two more lounges in the Molo B and Molo F areas at Fiumicino.
By Kathy McCabe
Want to read more about travel? Get your free copy of our new digital magazine, Perillo Traveler!