Published on Monday, July 18, 2016 by Kathy McCabe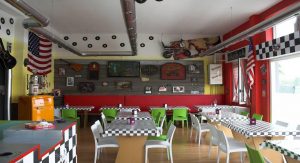 An Italian restaurant looking to increase business has started to offer weekly naked dinners to attract members of Italy's small but growing nudist community, inspired by a similar concept at the London restaurant Bunyadi. Nudist sites, such as beaches, became legal in Italy in 2006, and it is estimated that there are 600,000 nudists in Italy who visit them regularly. The restaurant, in Cerro Maggiore outside of Milan, serves Italian and American food daily, but hosts the naked dinner and dancing events every Friday, with the first one held on July 15.
"We have been trying to come up with ways of attracting more business and one way of doing that was to create something niche," said the owner, Romeo, who also told Vanity Fair that he is not a nudist, but saw a business opportunity.
Guests at L'Italo Americano enter the restaurant fully clothed and undress once inside. Mobile phones are banned to prevent people from taking photos of other diners, as is having sex (anyone who does will be kicked out). Guests dine by candlelight and sit with towels placed on the chairs for hygiene reasons. The manager and staff, who are clothed, oversee the diners to make sure the rules are enforced. As the dinner is for nudists, not voyeurs or swingers, it is a private event where reservations are required and is not open to drop-ins.
"The initiative is for genuine nudists," Romeo told Wanted in Milan. "Nothing to do with sex or swingers or anything like that."
An evening of nude dining and dancing costs 100€ for singles, with a 50€ discount for members of Anita, the Italian nudist association. Groupon is running a special right now for a dinner for two with drinks for 79.99€, valid through the end of 2016.
By Kathy McCabe
Want to read more about travel? Get your free copy of our new digital magazine, Perillo Traveler!