Published on Sunday, December 4, 2016 by Kathy McCabe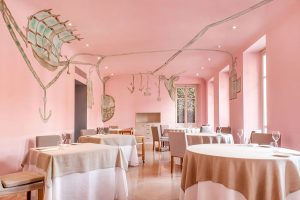 The 2017 Michelin restaurant guide has been released, listing a total of 343 restaurants in Italy among the best in the world. In this year's guide, Italy has eight three-star restaurants, 41 two-star restaurants, and 294 one-star restaurants, including a total of 28 new entries.
The three-star restaurants – the highest category – are: Da Vittorio in Brusaporto, in the region of Lombardy; Dal Pescatore in Canneto sull'Oglio, also in Lombardy; Enoteca Pinchiorri in Florence; La Pergola in Rome; Le Calandre in Rubano, in the region of Veneto; Osteria Francescana in Modena; Piazza Duomo in Alba (pictured); and Reale in Castel di Sangro, in the region of Abruzzo. These eight elite restaurants are unchanged from 2016, but five two-star restaurants and 28 one-star restaurants earned their ranking for the first time this year.
In June, Osteria Francescana was named the best restaurant in the world according to the World's 50 Best Restaurants Awards by the British magazine Restaurant.
By Kathy McCabe