Published on Wednesday, December 7, 2016 by Kathy McCabe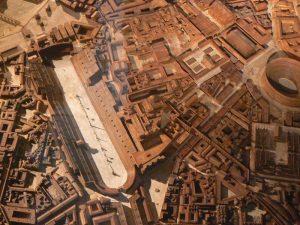 Circus Maximus, an ancient Roman gathering space and chariot racing venue located between Palatine Hill and Aventine Hill, has reopened a newly excavated and renovated section to the public after being closed for seven years. Circus Maximus dates about 2,800 years back to the founding of Rome, when King Romulus ruled the city and hosted horse races to honor the Roman God Consus. In the centuries since, the space, which is as big as six football fields, has undergone many renovations and served several purposes.
Other events held at the ancient venue included wild animal fights and religious processions, and to accommodate spectators, Roman kings and emperors added wooden seating and eventually permanent stone seating. In its evolution, Circus Maximus has also seen other stone structures, shrines to Roman gods, shops, brothels, and pubs. By the 1800s, the land had been used for farming and housing, and in the 1930s, Benito Mussolini hosted rallies to display Fascist propaganda there. Whatever the event, Circus Maximus has long been a place for ordinary Romans to socialize and unwind.
Today, most of the ruins are still underground and covered by a flat expanse of grass, so the site serves as a public park and a concert venue hosting artists such as the Rolling Stones and Bruce Springsteen. Between extensive fires and looting of the ruins for marble and stone, much of Circus Maximus has been lost, but there is still a wealth of discoveries yet to be made. The original chariot racing track still lies deep beneath the rubble, but several various items have been found during excavations, including bronze coins dating to 300 CE, gold jewelry, a marble arch, and glassware.
The renovated section of Circus Maximus is the ground level of the stadium, which would have been underneath the seating area. Visitors can walk through arched walkways and on a cobblestone road, and can see the marble arch commemorating Emperor Titus' victory over Jerusalem, ancient toilets, a medieval tower with views of Rome, and the ruins of ancient businesses. The site is open daily through Dec. 11; after that, it will be open on weekends or on weekdays for those who make an appointment by phone. Phone is 39-06-0608 and admission is 5 €
By Kathy McCabe