Published on Sunday, January 15, 2017 by Kathy McCabe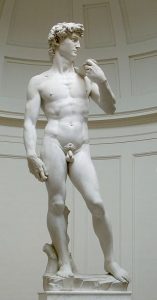 Following several powerful earthquakes in 2016, Italian art experts and scientists are concerning themselves with how to protect Florence's treasured artwork, particularly Michelangelo's David. While scientists, engineers, and art historians have studied David's vulnerability for years, the issue is coming back into focus due to growing fears that it and other important Renaissance works in Florence could be destroyed in a potential future earthquake in Florence.
Experts worry that David, carved from marble and completed in 1504, is particularly at risk due to microfractures in the figure's ankles that could send him crumbling after even a slight tremor. The Italian government agreed two years ago to provide 200,000€ for an earthquake-proof plinth for the statue, but has not yet done so. The sculpture is 17 feet tall and weighs an estimated six tons.
"In the light of the earthquakes in central Italy and the fact we cannot rule out their extension towards the north, the problem of the seismic protection of Michelangelo's David has become extremely urgent," geoscientist Alessandro Martelli told The Times.
In August, a magnitude 6.2 earthquake decimated villages in central Italy, including Amatrice and surrounding towns, killing 295 people and leveling buildings. Not far to the north, a string of forceful earthquakes in the same week in October caused further damage to the region. The first two quakes, measuring 5.5 and 6.1, hit the towns of Visso and Campi, while a 6.6 quake – the strongest in Italy in more than 30 years – struck Norcia and nearby villages. That quake destroyed Norcia's 14th-century Basilica of San Benedetto and left residents homeless and business owners without shops.
So far, Florence has avoided strong earthquakes, but has been experiencing small ones as recently as Jan. 13, when a magnitude 2.0 quake hit.
Architect Fernando De Simone has offered the city council one solution in proposing the creation an anti-seismic museum to house important and fragile works such as David, which currently resides in the Galleria dell'Accademia. Meanwhile, the director of the Accademia, Cecile Hollberg, and Italian culture minister Dario Franceschini are discussing an earthquake preservation plan for the Accademia.
However, a museum won't help preserve fixed or outdoor monuments such as the Medici palaces, the Duomo, and the 280-foot campanile, which was designed by Giotto. The campanile will soon undergo a seismic assessment by the Opera di Santa Maria del Fiore, which oversees the Duomo and its monuments, and Francesco Gurrieri, who helped with preservation of the Leaning Tower of Pisa.
— Kathy McCabe