Published on Saturday, February 4, 2017 by Kathy McCabe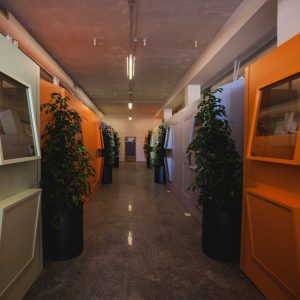 Drawing inspiration from accommodations in Tokyo, Italy's first capsule hotel opened in January in the Naples Capodichino Airport. Bed and Boarding, or "BenBo" for short, is open 24 hours every day and allows travelers to get nine hours of rest at night (11 p.m. to 8 a.m.) for 25€, or take a one-hour nap before a flight for 8€ (the second hour is 7€ and the third hour is 6€).
Encapsulated in colorful pods, the 42 rooms – two of which can accommodate people with disabilities –contain a bed (measuring 78 by 27 inches), a smart TV, a flip-down desk (19 by 23 inches), a window with blackout curtains, and a place to charge electronic devices. Guests share the 16 bathrooms with showers.
Each pod measures 14.8 feet high, 6.5 feet long and 3.3 feet wide. Like in a traditional hotel, the rooms and bathrooms are cleaned after each guest checks out.
While the beds are only big enough for one person, the rooms can connect to allow families to share a space, and BenBo plans to open double rooms in the future. Small conveniences like WiFi, a mirror, hangers, an alarm clock, air conditioning, soundproofing, and TV functions that display flight information round out the suite of offerings packed into the tiny pods. In addition, outside the rooms is a courtyard with tables where guests can have a snack or chat with other travelers.
BenBo is located in the Pegaso building near car park P2 and the arrivals hall.
By Kathy McCabe