Published on Tuesday, February 7, 2017 by Kathy McCabe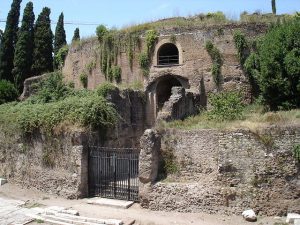 With a grant from an Italian telecommunications company, restoration work on the Mausoleum of Augustus is finally set to begin. The mausoleum, built for Augustus, the first emperor of Rome, is more than 2,000 years old and has been showing its age due to neglect that has allowed it to become overgrown by grass and trees in recent decades. Among Augustus and other prominent Romans, Marcus Agrippa, who built the Pantheon, and Augustus' successors Nero and Tiberius are also laid to rest at the tomb.
The restoration is a long time coming – it was originally planned that the mausoleum would reopen in 2014 for the 2,000th anniversary of Augustus' death, but the project never got off the ground – and is expected to take 800 days. Telecom Italia pledged 6€ million through its TIM Foundation to restore the monument.
Giuseppe Recchi, the president of Telecom Italia, called the mausoleum "one of the key monuments in the history of mankind" and revealed plans to create a multimedia show that will tell the story of ancient Rome and Augustus.
"Images of Rome, from ancient times to the modern era, will be projected onto the interior of the mausoleum's walls,"Recchi told Corriere della Sera. "Tourists will be immersed in the most sensational story of humanity, from imperial Rome to the beginnings of Christianity and the Baroque period."
Augustus emerged victorious from the Battle of Actium in 31 BC, defeating Mark Antony and Cleopatra to gain power over Rome, where he ruled over an empire that stretched from Spain to Egypt to Turkey until his death in 14 AD. He had the circular tomb built on the banks of the Tiber River in 28 BC as one of his first construction projects as emperor. The structure, made of concrete and limestone, originally stood about 140 feet high and 292 feet wide with a bronze statue of Augustus on top, but the ruins are now only about 98 feet high as much of the upper portion was lost.
The mausoleum became a castle for the Italian noble Colonna family in the Middle Ages; when they left in 1167, it was abandoned and became a bull fighting ring in the 1700s and a concert hall in the 1900s. It laid in ruin for centuries until the 1930s, when Benito Mussolini ordered the removal of additions to the building – thus removing the concert hall infrastructure – and razed neighborhoods to build the Piazza Augusto Imperatore surrounding the monument in celebration of Augustus' 2,000th birthday and in an attempt to align himself with the glory of ancient Rome. The piazza is a functioning part of Rome and houses offices, bars, shops, and restaurants, but the mausoleum is still all but forgotten.
By Kathy McCabe