Published on Wednesday, May 17, 2017 by Kathy McCabe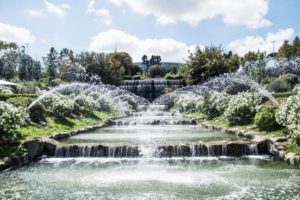 A waterfall garden in Rome that has been closed for 56 years reopened to the public earlier this month. Giardino delle Cascate (Garden of the Waterfalls) in EUR, a southwestern suburb of Rome, first opened in 1961. It was designed by architect Raffaele de Vico and closed shortly after it opened, and was only used occasionally as a film set.
Situated on the EUR lake, the garden has water jets, short waterfalls, natural stones and plants, and flowers. These features allow for the oxygenation of the lake as well as aesthetic beauty.
Architect Franco Zagari called the garden "perhaps the most interesting modern Italian garden in the second half of the twentieth century," noting that, in keeping with the Italian tradition, it is "characterized by symmetrical and 'classic' regularity."
The garden is located between two bridges that cross the lake, one of which was restored after being vandalized.
"This beautiful corner returns to the Romans thanks to a work that is part of a wider program of improvement of Eur Lake as part of our initiatives in this quadrant of the city," said Roberto Diacetti, president of EUR Spa, a company owned by the city of Rome and the Ministry of Economy that oversees the district's development.
The garden is open from 7 a.m. to 8 p.m. daily. Address: Passeggiata del Giappone (the garden can be reached along Via Oceania)
By Kathy McCabe