Published on Sunday, May 21, 2017 by Kathy McCabe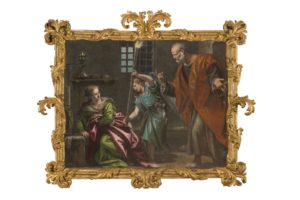 After hanging in churches on the island of Murano in Venice for centuries, two paintings by Venetian Renaissance master Paolo Veronese headed across the lagoon and are now on display at the Venice Biennale. The paintings, Saint Jerome in the Desert and Saint Agatha Visited in Prison by Saint Peter, are newly restored, correcting previous poor attempts at restoring them.
Both paintings were commissioned in 1566 by Francesco degli Alberi, the abbot of the church of Saint Mary of the Angels in Murano. They remained there until the 19th century, when they were moved to the nearby Church of San Pietro and, scholars believe, given gilded frames. The roof of the Church of San Pietro leaked, exposing the paintings to water damage.
Past botched restorations left the paintings heavily varnished, darkening the vibrant colors, and their gilded frames peeling. The Venice Heritage team removed the varnish and meticulously repainted the damaged areas to revive the paintings' former splendor.
Toto Bergamo Rossi, president of Venetian Heritage, said, "It is not only a conservation project but a rediscovery of two not very well known masterpieces. We rediscovered the amazing quality of the two paintings."
The restoration was funded by Italian jeweler Bulgari and carried out by a restoration team from the nonprofit Venetian Heritage organization. Bulgari contributed 62,000€ toward the project, and has also paid to restore the Golden Staircase at the Doge's Palace in Venice and the Spanish Steps in Rome. As part of the exhibit, at the Accademia, visitors can read about the paintings' history and restoration in a special catalog published in both Italian and English.
The paintings are at the Gallerie dell'Accademia in Venice until Oct. 24, when they will go to the Frick Collection in New York. The Venice Biennale is an international art exhibition that showcases art from 85 countries; it is organized biennially, in odd-numbered years.
By Kathy McCabe