Published on Sunday, June 11, 2017 by Kathy McCabe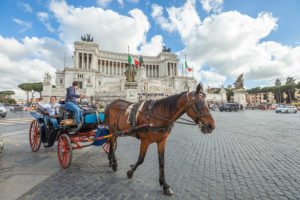 Rome will no longer allow horse-drawn carriage rides on its cobblestone streets, the city announced last week. When the change goes into effect, carriages will only be permitted in parks and on the grounds of historic villas.
Carriage rides are popular with tourists and take them through guided tours of popular monuments such as the Colosseum, the Vatican, the Trevi Fountain and the Spanish Steps. However, animal rights advocates have long claimed the city's pollution, noise, summer heat and traffic harm the animals, and have fought for years to prohibit the carriage rides.
In 2010 The Telegraph reported that one horse was fatally hit by a car and another broke its leg on the uneven cobblestone streets and had to be put down.
Rome Transport Commissioner Linda Meleo told the Associated Press that "the level of smog and traffic put at risk the safety of the animals."
The city did not announce a date for the implementation of the change, but said carriage drivers wouldn't lose their jobs.
— Kathy McCabe