Published on Monday, June 5, 2017 by Kathy McCabe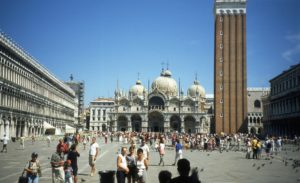 In its latest effort to curtail the crush of tourists that descends upon Venice, the city is considering charging an entry fee to visit St. Mark's Square. The city will begin by rolling out a system to count the number of visitors in the historic city center at a given point in time and display the numbers on social media in real time, hoping to deter guests from adding to the crowds instead of limiting visitor numbers. However, Venice council member for tourism Paola Mar told Il Gazzettino that paid entry to the square "is an eventuality that exists, though not immediately."
The city council approved the plans, put forth by Mar and Venice Mayor Luigi Brugnaro, in a meeting.
Venice receives an estimated 25 million tourists per year, about 20.5 million of whom don't stay overnight or contribute significantly to the local economy. In response, the city council and locals have both tried stop the overcrowding, including attempting to stop cruise ships carrying day trippers en masse from entering the lagoon, creating separate lines for tourists at vaporetto stops, and considering a cap on annual visitors. On busy days, the number of tourists exceeds the number of locals in the city – Venice has a population of 260,000 overall and 55,000 in the city center.
Under the proposal, tourist numbers would be tracked in hot spots around the city, including St. Mark's Square and the bridges used to cross into the city center from the train station and Piazzale Roma, the city's primary arrival point, as well as the Riva degli Schiavoni waterfront promenade. The city will count visitors via free WiFi, which will be open to everyone. Officials are unsure when the program would begin, but plan to act as quickly as possible.
The city council also plans to highlight lesser-known areas of Venice, publish maps with less-traveled routes around the city, and expand a tourist transport ticket.
A UNESCO World Heritage Site, the Venetian lagoon is suffering from the amount of foot traffic it receives, which erodes roads and bridges. Further, an increase in tourism has brought a rise in petty crime such as vandalism, public intoxication, and theft. Last year, UNESCO threatened to put Venice on its list of endangered sites unless it banned cruise ships from entering the lagoon.
At a time when Venice is facing major conservation hurdles, some officials welcome the idea of an entry fee, while others are opposed.
Italian Minister of Culture Dario Franceschini told Il Gazzettino, "I'm against the idea of a ticket. You cannot make people pay a fee to access a historic centre or a square. Cities must stay open and free." However, he also said that "places of art that already suffer from overcrowding today, and that are fragile themselves, cannot hold an unlimited number of tourists. Places like… Piazza San Marco… have a finite capacity. They must be protected."
This is not the first time the city has mulled an admission fee. In 2014, Venice proposed charging an entry fee to all adult travelers who do not spend the night, which would have included admission to a museum.
–Kathy McCabe