Published on Friday, July 7, 2017 by Kathy McCabe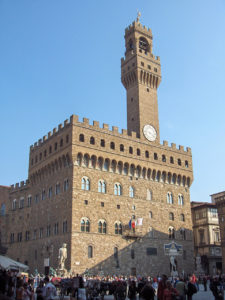 The first part of the Vasari Corridor, which connects Palazzo Pitti, the Uffizi Gallery and Palazzo Vecchio in Florence, has reopened to the public after being closed since 1871. The first part of the corridor links Palazzo Vecchio and the Uffizi Gallery and travels above Via della Ninna. Previously, parts of the corridor were only open for guided tours, but now the public can travel freely and independently throughout the passageway between the two museums.
Duke Cosimo I de' Medici commissioned architect Giorgio Vasari to build the Vasari Corridor in 1565 as a way for the Grand Duke to travel safely between his residence in Palazzo Pitti and government offices in Palazzo Vecchio, at either end of the one-kilometer covered passageway. Along the way, the Vasari Corridor meets up with the Uffizi Gallery, which displays its famous collection of self-portraits in its section of the passageway.
At the corridor's inauguration ceremony on July 5, Florence Mayor Dario Nardella said, "Palazzo Vecchio has been joined to the Uffizi Gallery by a single project, commissioned by Cosimo de' Medici and designed by Vasari. The complex has for too long been separated by political and judicial borders. Today… we are finally reopening a small symbolic door, recovering the great Vasarian project and making it available to everyone."
Tickets are 27€ and can be reserved by calling the Firenze Musei at +39 055 294883. The opening of the corridor is currently in a pilot phase until January 2018, but in the future, visitors will be able to buy a single ticket that includes admission to the Uffizi Gallery, the Palazzo Vecchio and the Vasari Corridor.
By Kathy McCabe