Published on Monday, August 14, 2017 by Kathy McCabe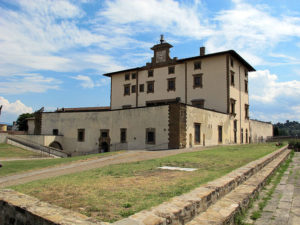 A new bus run by Florentine transportation body Ataf is bringing visitors from Florence's historic center to the hillside Forte di Belvedere and Villa Bardini, with the goal of improving access to these sites for both locals and tourists . The temporary route was created by the City of Florence, Fondazione Cassa di Risparmio di Firenze (an organization that supports art, culture, science, and the environment) and Associazione Mus.e (which supports the enhancement of Florence's civic museums and other sites).
The bus departs every 30 minutes from 10 a.m. to 7 p.m. Tuesday to Sunday until October 1. Beginning at Palazzo Pitti, the Ataf Route FB continues down Via dei Bardi, Piazza dei Mozzi – at the Stefano Bardini Museum – Porta San Miniato, and Forte di Belvedere on via di San Leonardo.
Stops on the return journey are Viale Galilei, Piazzale Galilei, Viale Machiavelli, Porta Romana in Piazza della Calza, Via Romana, Piazza San Felice, and Palazzo Pitti. Regular Ataf and Linea tickets will be accepted, and riders will not need a special ticket. Like all public buses in Florence, riders must buy tickets before boarding, at coffee shops, news kiosks, or tobacconists.
Forte di Belvedere (pictured) is the largest fortress in Florence and was completed in 1565; it is located on the highest hill of the city's 11-acre Boboli Gardens. Commissioned by Grand Duke Ferdinando I de' Medici, it was built to protect the Medici family and Florentine government, the city's Oltrarno district and the Pitti Palace.
Villa Bardini was built in 1641 and houses a formal Tuscan garden and two small museums with a great view of Florencce. The Roberto Capucci Museum displays fashions from the Italian designer, while the Pietro Annigoni Museum contains the private collection of and paintings by the postwar Italian painter.
By Kathy McCabe