Published on Thursday, August 24, 2017 by Kathy McCabe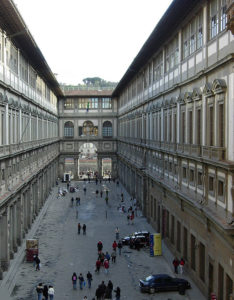 Beginning March 1, 2018, visitors to the Uffizi Gallery, the Pitti Palace and the Boboli Gardens will pay more for tickets as the museums switch to a season-based admission system with higher prices for visitors coming in spring and summer.
In peak season (March 1 to October 31), tickets to the Uffizi will cost 20€; in the remainder of the year, they will cost 12€. Tickets to the Pitti Palace will cost 16€ in high season and 10€ in winter, with a half-price discount for those who buy tickets before 8:59 a.m. the day of their visit and enter before 9:25 a.m. The early-bird discount offers a chance to see the Palatine Gallery, the Royal Apartments, the Modern Art Gallery and the Costume and Fashion Museum before the crowds arrive.
Entry to the Boboli Gardens will be 10€ in peak season and 7€ in winter. They will still be free of charge to Florence city residents who enter through the Annalena and Porta Romana gates. A combined ticket will offer entry to all three museums – one entry per museum, valid for three consecutive days – for 38€ in summer and 18€ in winter.
The new system isn't meant to stop international tourists from visiting the museums during the summer, but rather to encourage European tourists to schedule visits during winter to take advantage of the lower prices. Current offers, including discounts for EU students, will remain in place.
"The Uffizi Galleries' new pricing system is designed to encourage visitors to experience the entirety of the collections built up by the Houses of Medici and Hapsburg Lorraine over the centuries," Uffizi Director Eike Schmidt told The Florentine.
"It affords priority to those who return several times in the course of the year (or over a week or two), and thus it is addressed in particular to the people of Florence—whether native or adoptive—and to non-residents with a genuine interest in our artistic heritage, while discouraging hit-and-run tourism," he said.
The museums are also introducing annual passes on Sept. 1, 2017, that will be valid for 365 days from the date of purchase and include unlimited admission and skip-the-line benefits. A pass to the Boboli Gardens is 25€, to the Pitti Palace 35€, and to the Uffizi 50€. There is also a combined pass to all three locations for 70€. There's no need to be a permanent resident to enjoy the passes – anyone from study abroad students to tourists to locals are able to buy them.
Current passes will still be available. The Firenzecard, popular with tourists, offers admission to 72 museums in 72 hours, including the Accademia and other publicly run sites. The Amici degli Uffizi, targeted at Florence residents, offers social and other benefits that the new passes will not.
By Kathy McCabe