Published on Friday, September 15, 2017 by Kathy McCabe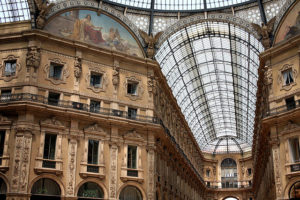 This week, Milan is celebrating the 150th anniversary of the Galleria Vittorio Emanuele II, the world's first shopping mall and one of Milan's grandest landmarks. It opened on Sept. 15, 1867 and was commissioned by King Vittorio Emanuele II in 1865, who had unified Italy just four years earlier in 1861.
"Paying tribute to the Galleria means celebrating the architectural beauty and 150-year history of our city," Milan Mayor Beppe Sala told Italian newspaper Corriere della Serra.
On September 13th, the Galleria hosted a VIP dinner for 900 people underneath its famous glass dome. The 500€ ticket price will be donated to Caritas Ambrosiana, a Milan-based charity that focuses on social issues. Celebrations were opened to the public with band performances on September 15th.
Engraving artist Maria Carmela Colaneri designed a commemorative silver coin for the occasion, depicting the emblem of Italy (an eagle atop a coat of arms) on one side and the Galleria on the other. The coin will be available for purchase at the Galleria for 10€.
The Galleria is home to luxury retailers, restaurants, and the world's only seven-star hotel, Town House Galleria. Its two long arcades are covered by huge, arched, iron-and-glass roofs, and in the center is an octagonal space capped by an enormous glass dome. The floor of the octagonal space is covered in four mosaics that show the coats of arms of the four capitals of the former Kingdom of Italy: Milan, Turin, Florence  and Rome.
By Kathy McCabe