Published on Monday, November 6, 2017 by Kathy McCabe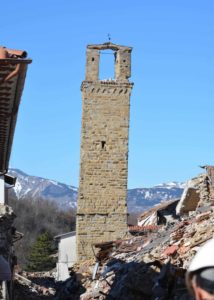 Amatrice, the village in Lazio famous for its pasta sauce all'Amatriciana, has been designated a 2018 World Monuments Fund (WMF) site in the Disaster category. Amatrice was destroyed by an earthquake on August 24, 2016.
The earthquake in Amatrice caused 299 deaths and approximately 400 injuries. According to the WMF site, the mayor of Amatrice poignantly declared: "The town is no more." More than a year later, the historic city remains uninhabited and inaccessible. Outside Amatrice, a temporary settlement has been erected out of prefabricated buildings to house displaced residents.
In total, damages to property and infrastructure from recent seismic events have been estimated at more than 20 billion euros. And while government aid was promptly announced, local communities have continuously called for more concrete steps towards recovery, which could last for years. For this reason, the 2018 World Monuments Watch is an expression of sustained international interest in the future of Amatrice.
In Amatrice, although most of the town's buildings collapsed, the bell tower of the medieval church of Sant'Emidio survived, an emblem of hope and resilience amid the devastation. Since 2002, the church of Sant'Emidio had housed the city's museum, named after Cola Filotesio, a Renaissance artist from Amatrice. Much of the museum's collection was salvaged thanks to emergency responders, but the ruined remains of the building now require structural stabilization and sheltering.
As people around the world debate the future reconstruction of this and other buildings, the 2018 WMF Watch is also a reminder of the need for better disaster prevention and preparedness. That includes retrofitting historic buildings to render them more resistant to earthquakes, even as knowledge of the best methods to use continually evolves. It also includes compiling accurate inventories of all heritage assets and engaging in emergency planning, for when disaster strikes.
Other places on this year's WMF list include 1980 Sirius public housing in Sydney, Australia; the Matobo Hills Cultural Landscape in Zimbabwe, Africa; and the Elihavu Hanavi Synagogue in Alexandria, Egypt, among others for a total of 25 sites that were selected from 150 possible locations.
By Kathy McCabe