Published on Thursday, November 2, 2017 by Kathy McCabe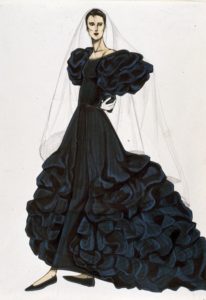 Until January 28th, 2018, fans of opera, theatrical garb, and fashion will be able to see a free exhibit of costumes made for La Scala by the world's top designers at Palazzo Reale in Milan.
Organized by The Friends of La Scala Association, the show includes nearly a century of costumes, which have been painstakingly restored in celebration of the Association's 40th anniversary. Many costumes have been restored by Atelier Brancato, while the Restauro Tessile Lombardo worked on the costumes from Aida, Eugene Onegin, and La sonnambula.
The costumes, including some worn by dance legend Rudolf Nureyev, opera diva Maria Callas, and made by designers including Gianni Versace and Karl Lagerfeld, "tell the story of the role that La Scala has had as an experimental research center," said Milan Cultural Counselor Filippo Del Corno.
Ranging from the oldest (a 1933 Caramba creation for the role of Isabella in Rossini's "L'Italiana in Algieri") to the most recent (Maurizio Millonetti's 2015 stepmother and stepsisters costumes for a Mauro Bigonetti production of "Cinderella"), these striking garments highlight the artisanal workshops of La Scala. There is even a costume designed by famed movie director Franco Zeffirelli—he directed a La Scala performance of "Il Turco in Italia" in 1955, and designed Callas's costume as Donna Fiorilla.
The exhibition is laid out in four sections. From the 30s to the 60s highlights tradition and, no surprise, also showcases some of the finest dressmaking and handwork. From the 60s to the 80s is all about period costumes and research. The 80s has its own section, because that is when the theater relied on big-name designers and their signature styles. From the 90s to Today focuses on ballet costumes, as many dance productions now take place in the famous venue.
The exhibit at Milan's Palazzo Reale is free and open to the public. Opening hours are Tues-Wed-Fri-Sun, 9.30 a.m. to 7.30 p.m., Thurs and Sat, 9.30 a.m. to 10.30 p.m., and Mon 2.30 p.m. to 7.30 p.m.
By Kathy McCabe