Published on Saturday, November 25, 2017 by Kathy McCabe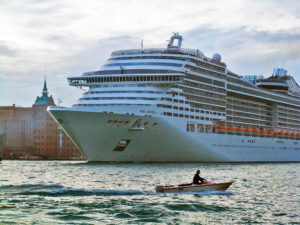 After years of protests by locals against cruise ships in Venice, the city has decided that in four years, cruise ships weighing 96,000 tons will no longer be able to drop anchor in St. Mark's Basin in Venice. They will instead have to keep at a distance from the city, landing on the mainland in Marghera, where the Venice airport is also located. A committee of local, provincial and national officials, chaired by Transport and Infrastructure Minister Graziano Delrio, reached the decision last week.
The current route takes ships past St. Mark's Square and the Grand Canal on the Giudecca Canal, the strip of water that passes in front of the historic city center. From this vantage point, the docked cruise ships dwarf the famous cathedral and campanile. Passenger ships smaller than 96,000 tons and commercial ships will still use this route.
The new route and port in Marghera have yet to be constructed, leaving officials with an ambitious timeline.
Locals, concerned about the impact of the cruise ships on Venice's foundation and angry about the increase of day-trippers, have protested the ships' presence in the Venice Lagoon for years. Groups such as the No Big Ships Committee believe the cruise liners are the primary force behind the city's uptick in mass tourism and a danger to the city's environment and infrastructure. They, along with historians, conservationists, and Venetians, raise questions about marine pollution, the fragility of an old city built on water, and the city's character being degraded and overrun by tourist traps.
Tommaso Cacciari, a spokesman for the No Big Ships Committee, told The New York Times, "They have decided nothing, and in the meantime, the ships will keep passing in front of San Marco." He believes the only solution is to boot the big ships from the lagoon completely.
Indeed, Venice is grappling with how to manage the crowds of tourists, who now outnumber Venetian residents in the city on most days. The city has given priority to locals on the vaporetti, banned new hotels from opening in the city center, promoted less-traveled parts of the city, and considered imposing tourist caps and entry fees to the historic center.
However, Venice Mayor Luigi Brugnaro views the decision as a compromise, saying it was a "great result" for Venetians and for the city, which will be able to keep the income it receives from the cruise ships.
"It should be clear to UNESCO and the world as a whole that we have a solution to having 'grandi navi' in the lagoon, taken with both the regional and government authorities," he said.
Additionally, Veneto Governor Luca Zaia said that Marghera would be able to welcome "luxury tourism that brings value" to the city, which is just across the lagoon from Venice.
By Kathy McCabe
Photo by m-a-r-t-i-n, flickr.com