Published on Monday, January 29, 2018 by Kathy McCabe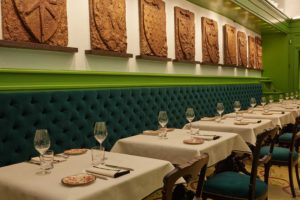 Gucci recently opened Gucci Garden, an experiential retail space in Florence dedicated to promoting the brand and its history. The concept is located in a 14th-century palazzo and comprises three floors.
On the ground floor is a boutique with items exclusive to Gucci Garden – including clothes and their tags and packaging – alongside books, magazines, souvenirs, and items from the Gucci Décor collection. There is also a restaurant, Gucci Osteria, with a four-course menu from three-Michelin-starred chef Massimo Bottura.
You'll have to pay 8€ to enter the first and second floors, which are a "brand experience" curated like a museum – something that could lure shoppers back into brick-and-mortar stores in an age of online shopping. One room, dedicated to "the allure of the double G," displays renderings of the Gucci logo throughout history, while another room displays Gucci's motifs, including the horsebit on its loafers and the red and green stripes on its packaging and accessories.
A room inspired by natural history contains clothes, accessories, and other items "exploring [creative director] Alessandro Michele's penchant for the iconography of animals and gardens." There is also a 30-seat theater and displayed collections of vintage dresses, handbags, and books.
The playful space mixes traditional décor with bright, modern colors and artwork. Because Gucci was founded in Florence in 1921, half of ticket proceeds goes toward funding restoration projects in the city. Gucci Garden is at Piazza della Signoria, 10 and is open Monday to Friday from 10 a.m. to 7:30 p.m.; Saturday and Sunday from 10 a.m. to 8 p.m.
By Kathy McCabe