Published on Tuesday, January 9, 2018 by Kathy McCabe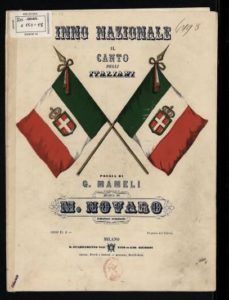 After 71 years of retaining unofficial status, the Italian senate has legally adopted the Italian national anthem as the national song. Officially called Il Canto degli Italiani, the song is colloquially known as L'Inno di Mameli (Mameli's Hymn) after its writer, or Fratelli d'Italia (Brothers of Italy) after its opening line.
Italy's government provisionally adopted the song in October 1946, when, following World War II, the country ceased being a monarchy and became a republic. The song was popular during the Risorgimento (the unification of Italy) in 1861, but the new Kingdom of Italy officially adopted the royalist song Marche Reale instead. In the postwar period, it was popular with both fascists and partisans.
Goffredo Mameli, a 20-year-old student, wrote the lyrics in the fall of 1847 in Genoa. In 1849, another Genoese resident, Michele Novaro, wrote the music in Turin. In the lyrics, Mameli calls for a unified Italy and invokes references to Ancient Roman victories as well as Italy's past struggles to become independent from other European powers such as Austria.
The song has five stanzas, but usually only the first stanza and the chorus are sung. It has been sung before soccer games and in military parades since 1946, and has been taught in schools since 2012.
By Kathy McCabe