Published on Monday, February 26, 2018 by Kathy McCabe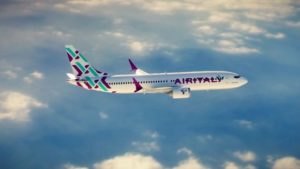 The second-largest Italian airline, Meridiana, has rebranded under the name Air Italy. With financial support from new shareholder Qatar Airways, Air Italy is looking to become Italy's premier airline, as Alitalia is undergoing bankruptcy proceedings. Qatar Airways bought a 49% share in the airline in 2017.
Meridiana will begin its brand transformation in May with flights within Italy. Meridiana currently flies daily between Milan's Malpensa Airport and Miami and New York's JFK Airport, but in June those routes will re-launch under the Air Italy name. In 2019, Air Italy plans to begin long-haul services from Rome's Fiumicino Airport.
The airline intends to add 50 destinations by the end of this year, including service from Milan to Bangkok in September. Though the airline's hub is in Milan, Air Italy will also serve Rome, Naples, Palermo, Catania and Lamezia Terme.
Air Italy also hopes to reach 10 million passengers annually by 2022, with 8 million of those flying through Milan–Malpensa, and to expand its current fleet of 13 aircraft to 50 by 2022.
Qatar Airways CEO Akbar al-Baker said that Air Italy aims to be "a sustainable airline alternative for the people of Italy."
By Kathy McCabe