Published on Sunday, May 6, 2018 by Kathy McCabe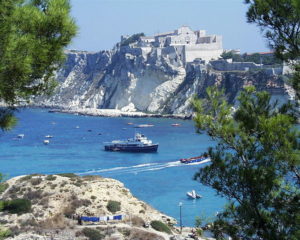 The Tremiti Islands, an archipelago off of Italy's east coast, banned all single-use plastic dinnerware from the islands beginning May 1 of this year. Anyone caught using disposable plates, cups and utensils will be fined 50€ to 500€ – including businesses, locals and tourists.
The islands' mayor, Antonio Fentini, instituted the ban after scientists measured alarming levels of microplastics – plastic particles less than 5mm long – in the surrounding waters. The research, performed by Greenpeace, found 2.2 pieces of plastic per meter cubed of water, while the average concentration measured at 19 sites around Italy was 0.52 pieces. Most of the plastic particles came from polyethylene, commonly found in packaging such as bags and bottles, and were likely swept toward the islands from other sites in the sea.
"Day after day we're seeing humans kill our sea and we had to do something, immediately," Fentini told La Repubblica.
For now, disposable plastic bottles and polystyrene containers are still allowed. However, Fentini has his sights on banning both of those as well.
A three-island chain with 500 inhabitants and thousands of seasonal tourists, the Tremiti Islands are part of a protected marine reserve – but the plastic pollution is threatening their protected status. Greenpeace estimates that 90 percent of ocean pollution is plastic, and the Mediterranean Sea has one of the highest rates of microplastic pollution in the world, at 1.2 million pieces per square kilometer.
To reverse the damage, Fentini believes coastal areas must work together to ban plastics.
"I'm calling on the mayors of all islands and coastal areas to follow suit," said Fentini. "Let's all try to do some good for our planet."
Some have done so: In 2011, Italy became one of the first countries in Europe to ban single-use plastic bags; at the beginning of this year, it also mandated that produce bags be biodegradable. In 2015, France banned all single-use plasticware from the country, to go into effect in 2020.
By Kathy McCabe